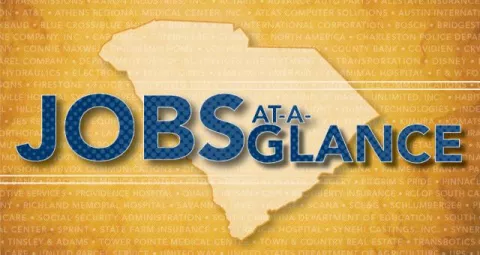 Jobs at a Glance: Openings for October 2013
About Jobs at a Glance
Piedmont Technical College receives news of new job openings all over the region on a regular basis and posts them to Jobs @ a Glance as a service to the community. In addition to providing information about local job opportunities, PTC also offers assistance with resume preparation, job interviewing tips, and more. For information on these services, please contact David Rosenbaum at rosenbaum.d@ptc.edu or visit SC Works in Room 101-A on the Lex Walters Campus-Greenwood.
Here are some highlights from the last few weeks:
A Greenville company is seeking a technician to provide technical assistance and support for incoming tickets related to computer systems, software and hardware. Applicants must be able to communicate with end users via phone and email regarding issues, maintain daily performance of computer systems and resolve technical problems with LAN, WAN and other systems. Applicant must have a 2 or 4-year degree in Information Systems or Computer Science (degree must be complete – not in process) and must have 2+ years of IT or Helpdesk Support experience and strong customer service skills. Salary: $40,000/year
Deadline: 10/31/2013
Ayers, Smithdeal & Bettis, PC is seeking an Office Clerk/Assistant with possible in house training toward becoming a legal assistant/secretary. Flexible part-time hours initially, with potential for full-time employment. Applicant must have at least a high school diploma with either current training in or experience with typing, filing, scanning, organizing electronic documents, answering and directing telephone calls. Experience with Microsoft Word 2010 is required. Progress toward a degree in Administrative Office Technology is preferred.
Deadline: 11/30/2013
Designquest, LLC in Laurens is seeking a designer/draftsman to be mentored and molded into a senior designer with a company that designs and prototypes for a variety of industries. Designquest is a direct supplier for companies such as BMW, Mercedes, Honda, Toyota, Goodrich, and many other well known companies. We are looking for only the best! If this is not your dream job, do not apply! The ideal candidates will be enthusiastic, motivated, confident, self-driven, with a can-do attitude and a strong work ethic. Applicant must be familiar with standard drawing practices. Must have Solidworks training and experience creating part models, assemblies, sheet metal parts, weldments,drawings and BOMs, basic knowledge of algebra, geometry, trigonometry, drafting technology, and computer graphics. Must have excellent communication skills, both written and verbal. Must have high attention to detail. Associate Degree, or equivalent experience in drafting and design preferred.
Deadline: 5/31/2014
ZF Transmissions is seeking experienced CNC Machinists for the new transmission facility located in Laurens County. Primary responsibility is to operate all equipment in assigned work area safely and within specifications. Requirements include at least a High School Diploma or GED and prior manufacturing experience. Salary Range: $13.70 - $17.38/hr depending on experience.
Deadline: 10/1/2014
Personal Care Assistant/Nurse Assistant
Right At Home of Newberry is looking for a Nurse Assistant to perform personal care activities to assist patients with the activities of daily living, including personal hygiene, ambulation, eating, dressing, shaving, and preparing meals and snacks. The nurse assistant will also perform patient-specific activities that are taught by a nurse, such as reinforcement of dressings and assisting with prescribed range of motion exercises.
Deadline: 1/1/2014
About Career Services at Piedmont Tech:
Piedmont Technical College offers a full suite of 
career services
, including planning, counseling, resume assistance, and a wide variety of job search resources. Employers: If you're searching for employees, please consider 
listing your job opening
 with us.