Luncheon Recognizes Scholarship Donors, Recipients
Piedmont Technical College recently held its annual Scholarship luncheon. The following recipients were among those honored: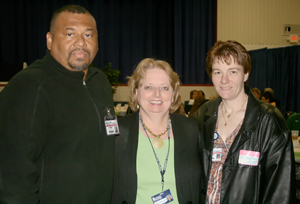 Two Piedmont Technical College students recently received the Charles Baumeister Memorial Scholarship. Pictured are, from left, Irving Cowan, a business student from Calhoun Falls; Sissy Copeland, dean of Business, Information Technologies and Public Service; and Kimberley Lovejoy, a respiratory care student from Waterloo. The scholarship, which is awarded to a student with a 3.0 grade point average, was established in memory of Charles Baumeister, a long-time faculty member of the college who served as dean of the Business and Industrial Divisions and vice president for Educational Affairs.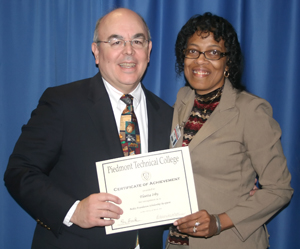 Piedmont Technical College computer technology major and Clinton resident Floetta Irby (right) was recently presented the Bailey Foundation Scholarship by Robert Link.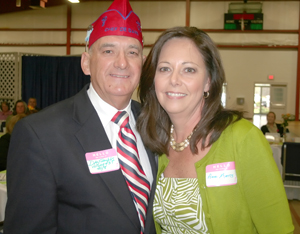 Piedmont Technical College practical nursing student and Ninety Six resident Anna Morris, right, was recently awarded the Forty and 8 Scholarship award at the college's annual scholarship luncheon, presented by Danny Grubbs. The unit, a support group of the American Legion that was established in 1920 by World War I veterans, annually funds a nursing scholarship.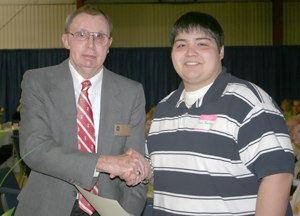 Piedmont Technical College student and Due West resident Justin Thompson (right) recently received the Ernest W. Prewett Alumni Association Scholarship Award. Thompson, a commercial art student, was congratulated by Ernest Prewett, former executive assistant to the president at PTC. A record number of award winners were recognized during the event, which allows scholarship donors the opportunity to meet recipients.
Mark Hamilton, a funeral service student from Gray Court, was recently awarded the Charles M. Cox, Jr. Scholarship at Piedmont Technical College's annual scholarship luncheon. The scholarship is awarded annually to a student in the Funeral Service program who has maintained a minimum 2.0 grade point average.