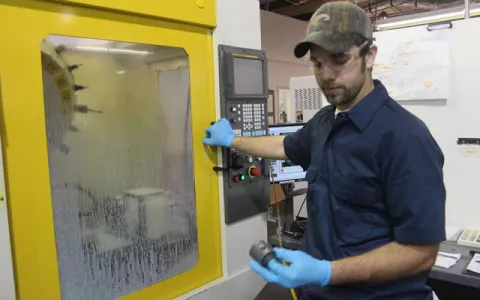 Machine Tool Technology: Training for a Skillset in High Demand
"The demand for machinists is at an all-time high," said Bob Koster, Metal Trades department head.
According to Koster, companies are currently hiring everybody they can find with experience. Koster points to 30 job openings on his desk that his students could apply for right now.
"There are more jobs out there than we have students," he said. "And that's good news for the people in the Machine Tool Technology program."
What does a Machinist Do?
Machinists have a hand in practically everything:  from the parts on your car to the equipment at your doctor's office to the shoes in your closet.
Machinists take raw materials, like metal or plastic, and produce a specialized finished product by using a set of machines, or by programming a computer to follow a set of specifications.
 "We have requests almost daily from manufacturers in our region and out of state for one or two machinists, and sometimes as many as 30," says Koster.
They need to have an understanding of blueprint reading and schematics, a knowledge of measurement techniques, and the skills required to operate various types of machinery.
These machines can include manually operated machines like lathes, drill presses, milling machines, or grinders, and can progress into what's called CNC technology, which means "computer numerically controlled."
CNC is a technology used by virtually every advanced manufacturing company in the world today.
CNC programmers are needed to write the programs that are used by advanced machines to design a part. When these programs are entered into a computer, the computer will tell the machine how to make the part.
Training in the Skills Employers Need
Piedmont Technical College offers state-of-the-art training facilities in its Machine Tool Technology program to train machinists in the skills employers are looking for.
Machine Tool students produce hands-on projects from blueprints or existing parts. Activities cover operation of all machine tool equipment, as well as precision measurement, shop-related blueprint reading and applied mathematics.
And the work is precise—very precise. Generally, machinists make parts that have to be within 1/1,000 of an inch of specifications. That's thinner than a strand of hair. In some cases, parts have to be within 1/10,000 of an inch.
In addition to conventional machines like lathes, drill presses and grinders, students learn machine code programming, conversational programming, and create working programs for CNC machines.
"Basically what we do is take someone with no knowledge of machining or Machine Tool technology and show them how to run various types of machinery that will take a part from raw material to a finished product," said Johnny Merck, Machine Tool instructor.
Koster says that Machine Tool students come from every background you can imagine—from right out of high school, to people looking for a new career, to people coming back to school to upgrade their skills for a wage increase.
"Some students have never even operated a drill press or done anything mechanical in their lives prior to enrolling," Koster said.
The program offers different options, ranging from certificates up to an associate degree, to allow students to complete their coursework in phases if they need additional flexibility.
"It's set up so that you can get quick skills in a short period of time that you can utilize for the rest of your life—something that nobody can take from you," said Merck.
Good Career Opportunities
Students who enroll in PTC's Machine Tool Technology Program qualify for a wide variety of jobs, according to Merck.
Normally, graduates start out as machine operators, then work their way up to machine set up, and can then become programmers. Experienced CNC programmers can be very well compensated, and are in high demand throughout the country. Other career tracks include sales, engineering and more.
Merck says that someone graduating from Piedmont Technical College's Machine Tool associate degree program can expect to make from $15-$20 dollars an hour starting out with no previous experience, and some students earn more than $30 an hour.
Both Koster and Merck are in constant contact with the manufacturing community about openings in the region, and about new shops that are looking for groups of qualified machinists.
 "We have requests almost daily from manufacturers in our region and out of state for one or two machinists, and sometimes as many as 30," says Koster.
Koster says that part of the way the Machine Tool faculty define their jobs is to help students get employment, and that students frequently get hired before they finish their studies.
Overall, the program can be a starting point for a very rewarding field for someone looking for a hands-on career.
As Merck says, "People use their hands and their minds, and it's a very satisfying program to be in. To be able to design a part, write a program, and then physically make that part can be very fulfilling."
Related Articles: