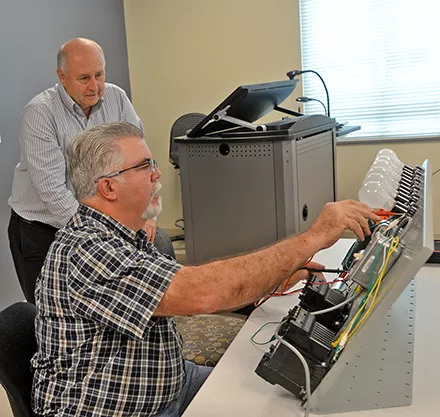 Mechatronics Technology Certificate to Be Offered in Abbeville
Piedmont Technical College has long prepared technicians to work in the continually advancing field of industrial technology. Now, the college is expanding its degree offerings for Abbeville residents with the addition of the mechatronics technology certificate at PTC's location in that county.
The new certificate program will begin in the fall of 2017 in response to the local industries who have expressed a need for a well-trained workforce.
"These companies come to us looking for employees who are trained and ready to begin working," said Charles Dixon, mechatronics technology program director. "While we offer the program in Greenwood, the companies in Abbeville are looking for a closer option."
Mechatronics is an interdisciplinary field involving control systems, electronic systems, computers and mechanical systems that integrates product design and automated manufacturing processes.  Because industrial applications are becoming more and more complex, industries need technicians with skills that cross a variety of disciplines.
The certificate program will be offered in its entirety in Abbeville. Dixon says if there is enough interest, there is a possibility of expanding the Abbeville classes to include the associate degree program, which is currently offered at the Newberry County Campus, the Laurens Center for Advanced Manufacturing and the Lex Walters Campus-Greenwood.
"We want to introduce them to what mechatronics is and give them the foundation necessary to meet the needs of industry in Abbeville County," said Dixon. "The jobs are there, and we want to make sure the students we train are ready."
For more information on the Mechatronics Technology program, contact Dixon at (864) 941-8656 or dixon.c@ptc.edu.  
Photo Caption: The mechatronics technology certificate program will be offered at the Abbeville County Campus beginning in fall 2017. Instructor Danny Stovall, right, and program director Charles Dixon prepare the equipment that will be used in the class.