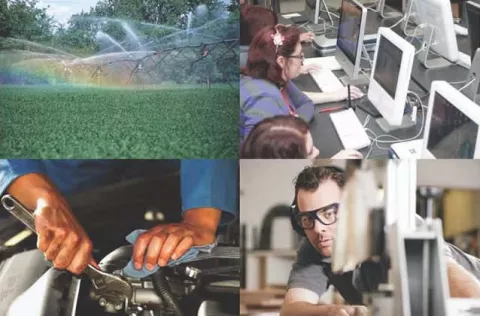 More education = Opportunity: Today's good jobs require more than high school
While not everyone wants–or needs–a full four years of college, a good foundation is more important than ever.
With a short period of training or a certificate program, high school graduates can expect to find jobs paying in the $20,000 to $30,000 range, and sometimes more depending on the field. Some of the jobs in these categories that are expected to have plenty of openings include a range of positions from customer service reps, to dental assistants, to pharmacy technicians and teacher assistants.
But even higher-paying jobs for workers with a high school diploma and some additional training are out there.
Some of these jobs include bookkeeping, carpentry, maintenance and repair work, massage therapy and welding–all of which pay in the $30,000 to $50,000 range and are expected have plenty of openings according to the U.S. Bureau of Labor Statistics.
More Satisfaction
Percentage of workers who say that they are "very satisfied" with their job:
40% no high school degree
50% high school graduate
58% associate degree or some college
58% bachelor's degree or higher
More Money
Median annual income based on education:
$24,300 no high school diploma
$33,800 high school graduate
$42,000 associate degree
$55,700 bachelor's degree
From CollegeBoard "Education Pays 2010"
More in the Middle
Even more career options open up for people with more education.
Somewhere between a high school diploma and a bachelor's degree there is a middle range of college education that is too often overlooked. These are the so-called middle-skills jobs that pay off in challenging and interesting work that requires specialized skills, pays good wages and offers stable employment.
Nationally, about 45 percent of all job openings are middle-skill level, compared to one-third in highly skilled jobs and just 22 percent in occupations that require only a high school diploma.
In South Carolina, the percentage of middle-skills jobs is even higher: it's projected to be around 51 percent by 2018.
These jobs include many health care and technical occupations that can pay from $30,000 to more than $50,000, with most requiring an associate degree.
The U.S. Bureau of Labor Statistics lists more than 20 occupations with above-average growth through 2018 in this category. Many of these are in health care professions that include registered nursing, cardiovascular technology, radiation therapy and respiratory therapy.
Some are technical careers like heating, ventilation, and air conditioning installation and repair; and some are service positions like morticians and funeral service directors.
According to a report by the National Skills Coalition, millions of students will take some college classes, but drop out before they earn any kind of degree. For these students, a certificate or associate degree in a middle-skills occupation are likely a better choice, offering more employment opportunities and better wages.
Good Jobs Go Begging
The industrial sector is an area where skilled workers are in especially high demand.
Jeannine Kunz, director of professional development for the Society of Manufacturing Engineers, said that manufacturers aren't able to find the kinds of skilled workers they need, especially welders, machine operators, sheet metal fabricators and maintenance technicians.
These jobs include many health care and technical occupations that can pay from $30,000 to more than $50,000, with most requiring an associate degree.
"It's estimated that the U.S. will be three million skilled workers short in the next couple years," she added. "And not enough people have the right education or skills to fill those jobs."
PTC instructor Grayson Jefferies, who teaches in the Automotive Technology department, can vouch for that. "There's definitely work out there for people with the right training. We get calls from employers every week looking to recruit students in our program," he said.
"Today's automotive technicians are expected to use electronic equipment all the time, and to be comfortable using specific equations in certain situations. They also need a basic grasp of electrical, mechanical, physical and chemical concepts," said Jefferies.
"Local dealers, independent shops, large auto service chains are all looking for either entry-level licensed technicians or interns. These are jobs that typically pay from $12 to $25 per hour. There is also a growing market for more highly trained technicians at automotive manufacturers' testing facilities, with good pay and benefits," he added.
Three Paths to a Higher Degree of Success
More education opens additional doors. At Piedmont Technical College, you can build on your certificate to earn an associate degree, which often brings higher pay and professional advancement. And you'll be well-positioned to go on for a bachelor's degree if you need one to advance further in your career. 
If you decide to earn a certificate to enter the job market quickly, you can add a few more credits later and round out your education with an associate degree. Most certificate programs at PTC offer this option.

Begin with an associate degree as your main credential. For example, a PTC associate degree will prepare you for health and technical careers right away. Here are a few examples:

Start with an associate degree to get your foot in the door, then transfer for a bachelor's degree for advancement. Each associate degree program at PTC includes at least one transfer pathway. Examples include:
*Adapted from CareerFocus Magazine