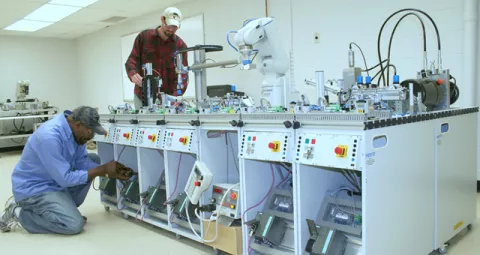 New Approaches to Closing the Skills Gap
Apprenticeships, Dual Enrollment and Quick Training
With increased investment in the Upstate and Midlands regions in South Carolina, competition for skilled workers is increasing, and some employers are reporting difficulty finding enough qualified candidates. 
"When we hear companies talk about their pain points, they're most frequently talking about machining and the kinds of skills taught in our mechatronics program," says Rusty Denning, associate vice president of Continuing Education and Economic Development at PTC.
In better economic times, many companies might have addressed some of this shortage by investing in more training, but cost containment has been a factor for most in the last few years.
With that in mind PTC has recently developed an apprenticeship approach for Mechatronics.
"The apprenticeship is something we're excited about," says Denning. "Companies can put their workers through a full associate degree program at essentially no cost to the company, or to the employee."
Denning says the college is already working successfully with several companies on the initiative.
"The apprenticeship is something we're excited about," says Denning. "Companies can put their workers through a full associate degree program at essentially no cost to the company, or to the employee."
PTC is also working closely with school districts to design a Dual Enrollment apprenticeship program in the Mechatronics area.
Dual Enrollment classes allow high school students to earn both high school and college credit simultaneously. Coupled with an apprenticeship with companies in their region, students could graduate high school with a diploma, an associate degree and a great job waiting for them.  
"The dual enrollment approach will create a steady supply of well-trained, prospective employees in our region," Denning says.
On the machining and CNC front, PTC has designed program called QuickSkills that gets students up to speed for entry level employment in a matter of weeks.
Offered at the new PTC Center for Advanced Manufacturing in Laurens County, the QuickSkills program offers Assembly, Quality Assurance, and CNC tracks. All three credentials can be applied toward a higher level program at PTC when students are ready for more education.
What is Mechatronics?
Although the word "mechatronics" might be new to some, Denning says, employers are quick to recognize the program's benefits once they see the curriculum.
Combining electronic, mechanical, robotics and information system technologies, this program provides the graduate with the skill set needed for today's automated manufacturing facilities.
Mechatronics graduates are multi-skilled technicians, with a working knowledge of hydraulics and pneumatics, robotics and automated controls, programmable controllers, process control and mechanical applications.
Each student in the program receives hands-on experience and computer simulated training with automated assembly line processes.
"If they're not already familiar with the concept, people often say the program is exactly what their workers need after they've seen the coursework," he says.
Designed for Advanced Manufacturing
Developed under a collaboration of the five Upstate technical colleges, every aspect of the Mechatronics program has been put together in response to needs expressed by employers.  The program meets industry standards as defined by BMW, Bosch, Fujifilm and Tyco, and students are trained on state-of-the-art mechatronics equipment from suppliers including Kuka Robot Group, Festo, US learning Systems and Siemens.
 "While Mechatronics is a new approach in the United States," said Kevin Boiter, Electro/Mechanical department head at PTC, "it's been a widely accepted career in Europe since the nineties. The field started in the Upstate when BMW asked us for a common curriculum dealing with both mechanical and electrical concepts."
The entire Mechatronics curriculum has been designed in partnership with the same industries students will work for after graduation.
 "Our students are getting first-hand experience with the same kind of tasks they'll need to handle on the job," says Boiter. "When our students leave us, they're fully prepared to go to work."
Related Stories: