New Presidential Ambassadors Named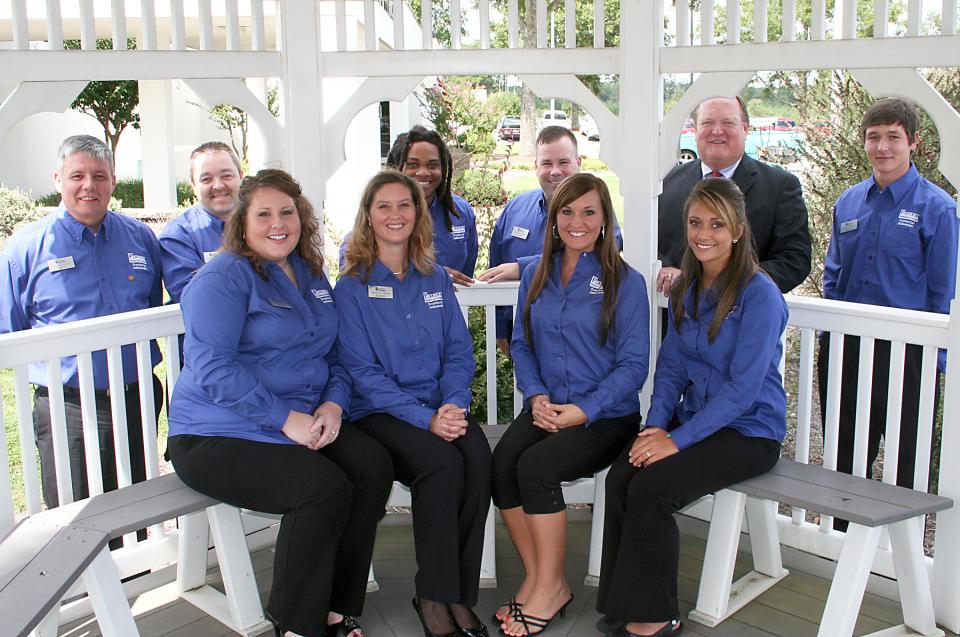 Each year, Piedmont Technical College chooses some of its best and brightest to serve as Presidential Ambassadors. These students represent the college at campus functions, provide tours and speak about their experiences to potential students. This year's select 12 are from a variety of backgrounds, representing many program areas and hometowns, but they all have one thing in common. They all echo a common message of gratitude for the impact Piedmont Tech has had on their lives, both personally and academically.
Ron Cahela spent most of his life building and remodeling homes after immigrating to Greenwood from Belfast, Northern Ireland. When a near-fatal heart attack struck in 2010, Cahela was forced to seek a new career. He turned to Piedmont Technical College and the human services program.
"The first day of college was very terrifying; after all, I was a 40 year-old freshman," Cahela said. "Being a PTC student has made me feel part of a family and a community." 
Devin Dowtin found his way to Piedmont Tech by following in his mother's footsteps. A graduate of the nursing program, she showed him the importance of earning a college degree. The Greenwood native enrolled in the associate in arts program with the goal of transferring to a physical therapy program.
"A couple of years ago, I would have never pictured myself here," said Dowtin. "Piedmont Tech has been a blessing. So when this road that was once smooth becomes rough and rugged and I chose to switch lanes, I will remember the people who truly believe in my drive."
Lanina Goode came to Piedmont Tech because she wanted more from the two bachelor's degrees she already has. Although she holds degrees in health care management and exercise science, she wanted something more hands-on. The Greenwood native chose to enroll in the associate degree nursing program.
"I really enjoy helping people and serving the community in the health care setting," Goode said. "Serving as a student nurse puts a sparkle in my heart and a smile on my face."
Holly Gosling graduated high school with no clear idea on what she wanted to do. She enrolled at a four-year university, but left school with the birth of her first child. The Abbeville native obtained a medical office receptionist certificate through continuing education. Her job in CICU introduced her to the field of respiratory care. Her admiration for the job they performed led her to the respiratory care program at Piedmont Tech.
"I love being a respiratory therapist," said Gosling. "This journey has been long and hard, but I am thankful and grateful to be here."
Braden Iusti also entered college upon graduation from Clinton High School. He then turned to Piedmont Tech and the diversified agriculture program. The seamlessness of the transition to Clemson University was a big draw for the Kinards resident.
"The instructors have inspired me to set goals and be successful," Iusti said. "The amount of hands-on teaching and the facility in Saluda provide the perfect environment for learning the agriculture profession."
Tara Lindley has a love for architecture and the outdoors. For her first love, she earned an associate degree in engineering graphic technology in 2009. She decided she was too active to stay indoors and the Clinton resident is now on her way to earning a degree to satisfy her second love – she is enrolled in building construction technology.
"I love the engineering graphics work, but I can't do that all day every day," said Lindley. "The two tie in well together. I can use both for my goal of bringing life back to homes that are in disarray."
Tammie Mallory was born in Anderson, but spent most of her life in Minnesota. While there, she earned her nursing degree and spent over 10 years in the health care field. When she returned to South Carolina, she decided she wanted a career that would allow her to spend more time with her family. She chose the teaching field and enrolled in the early care and education program at PTC.
"My ultimate goal is to teach first graders because that's where children establish their mind set for the rest of their lives," Mallory said. "I want to be part of that and have a positive influence on them."
Cory Nickles has spent 17 years serving his country in the US Marine Corps. But as he approached retirement, the Greenwood native needed to think about his civilian career. He served as a combat engineer and decided the engineering field is what he wanted to do. He enrolled in the engineering graphics technology program at Piedmont Tech. 
"The military showed me the path that I wanted to take because I love the type of work and challenges that profession offers," said Nickles. "The extraordinary instructors and staff in the engineering department at Piedmont Tech showed me the dedication they have for that program."
Todd Raugh entered the work force immediately after high school like most of the members of his family. The Indiana native moved to Greenwood and was diagnosed with cancer in his eye. After four successful surgeries that left him legally blind, Raugh knew he had to rethink his direction. He enrolled at Piedmont Tech in the business program.
"Through the Commission for the Blind, I was able to attend college," Raugh said. "It was nothing I had ever dreamed of before. I thought I would never be able to do this, but I have excelled in my classes with the help of the instructors and staff."  
Quanesha Rikard has two forces driving her to become a nurse: the influence of her grandmother who retired from more than 40 years in health care and the memory of a serious accident involving her father. The Newberry native believes the nursing program is a way for her to help her family.
"After my dad's injury, it clicked that nursing was what I wanted to do," said Rikard. "I like helping people."
Erika Tinsley found inspiration to further her education from her aunt, a Piedmont Tech graduate. She chose the Newberry Campus for her general education courses because it was close to home and became interested in the radiologic technology program.
"My first day of clinicals was when everything truly came together for me," Tinsley said. "I realized at that point this was real and I could do this. This is a great career opportunity for me."
Ashley Wall has spent a lot of time searching for her calling. After trying many different jobs, none of which made her happy, the Greenwood resident decided to return to school. She has long had an interest in the health care field and following in her sister's footsteps, she enrolled in the surgical technology program at Piedmont Tech. 
"I wanted to improve my family life and demonstrate to my children that an education is essential in today's society," Wall said. "I have a lifetime of learning ahead of me and failure is not an option."
Photo Caption: Each year, Piedmont Technical College chooses some of the best and brightest to serve as Presidential Ambassadors. This year's ambassadors are, front from left, Ashley Wall, Tammie Mallory, Holly Gosling and Erika Tinsley. Back, Ron Cahela, Todd Raugh, Devin Dowtin, Cory Nickles, Dr. Ray Brooks and Braden Iusti. Not pictured are Lanina Goode, Tara Lindley and Quanesha Rikard.