New State-of-the-Art Lab Added for Criminal Justice
February 20, 2014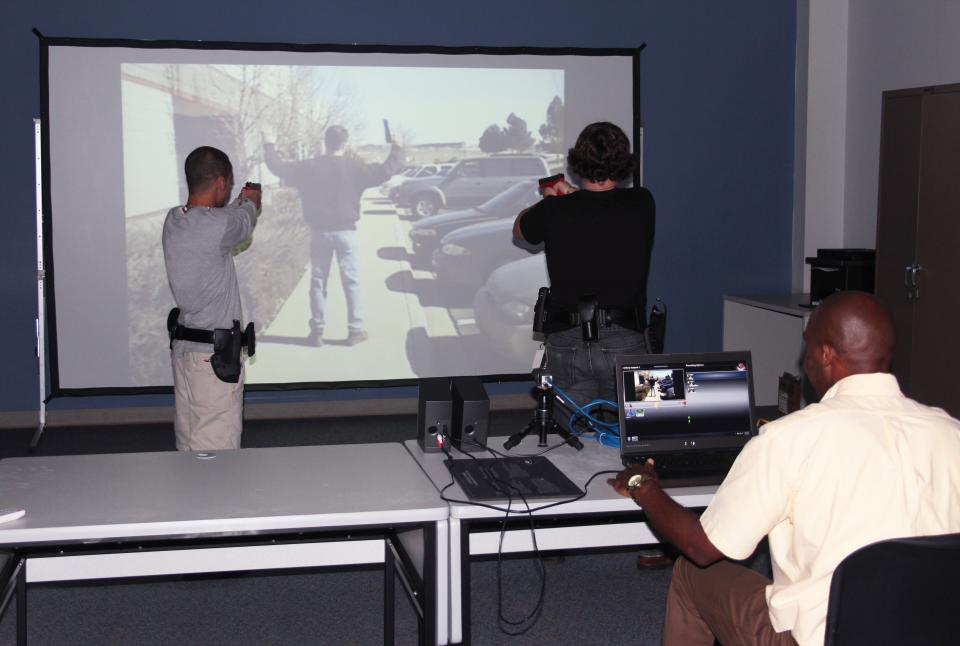 Legal, law enforcement and corrections jobs are hot commodities in today's job market. The criminal justice program at Piedmont Technical College provides students with the training they need to get started in these exciting careers and now they have raised the bar with the addition of state-of-the-art training equipment.
"We try to make the curriculum as hands-on as we can, because most of the time, students really grasp the concepts when they put them into practice," said Josh Lindsay, program director.
The criminal justice lab has been upgraded with 12 new computers, a driver training simulator and a firearms training simulator. They have also added a crime scene reconstruction program, a facial composite program, finger print kits, crime scene sketch kits, three digital cameras with photo document kits, two crime scene manikins and duty belts.
"We wanted to make this program the best criminal justice program in the state," Lindsay said. "There is no other college in the state of South Carolina that has some of this equipment, but we know these are things that will help our students be more productive when they go into the field."
The firearms training system offers PTC faculty a high impact way to provide training opportunities that would be difficult or impossible to replicate in the real world, such as repetitive training in a controlled environment with instant feedback, after action review, force-on-force training and a diverse set of training environments. But Lindsay emphasizes that some of the equipment such as the firearm training simulator is used to educate the students, not train them.
"Once you start training people, there can be legal repercussions," Lindsay said. "Our goal is to teach them more of the ethics of what they should or shouldn't do."
The students are very excited about the lab. Lindsay says he is glad because it helps the students become more familiar with the tools of their trade.
"The students are very motivated to use the lab," he said. "We try to give them a good understanding of the equipment so they can go into the field with the knowledge that will help them succeed."
Lindsay says he wants to continue to enhance the program with the addition of more tools for the students. A physical training or obstacle course is the next step for the program.
"For our students who want to enter a law enforcement academy, we want to be able to help them out," Lindsay said. "They can pass all the tests, but if they can't pass the physical portion, they won't be able to complete their training." 
For more information on the criminal justice program, contact Lindsay at (864) 941-8681 or at lindsay.j@ptc.edu. 
Photo Caption: Criminal justice program director Josh Lindsay, right, runs a scenario for students on the new firearms training simulator. The simulator is part of the new state-of-the-art criminal justice lab at Piedmont Technical College.