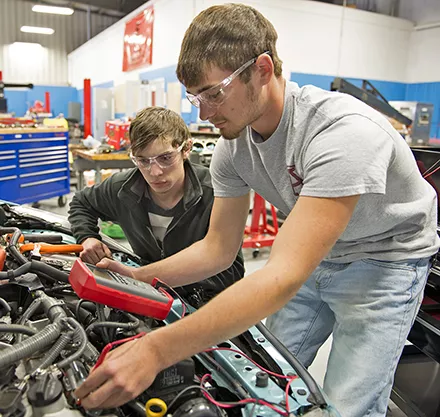 Night Classes among New Initiatives for PTC Automotive Program
Responding to the needs of working adults as well as market trends, the Automotive Technology program at Piedmont Technical College is planning several changes for fall.
The program is reintroducing night classes to the curriculum after an absence of several years. Piedmont Tech is also reducing the number of credit hours required to earn an associate degree in automotive technology.
"In addition to the new scheduling options we're introducing this fall, we're also working toward some 'earn while you learn' opportunities to make the program even more accessible to students," said David Kibler, dean of engineering and industrial technologies.
Among those are a possible cooperative education program with local auto dealerships and repair shops.
This fall, the automotive technology program will offer two night courses:
•           Engine Fundamentals
•           Steering & Alignment
"We're going to build up to where eventually you could complete a certificate program entirely through night classes," said Gerald Sartin, automotive technology instructor at PTC. "We just want to give students that option."
The certificate program prepares students to take the test to become an ASE certified technician through the National Institute for Automotive Service Excellence. The night courses will provide an option for working adults who might be interested in an auto service career.
"It's going to better align our program with what's going on in the real world," Kibler said. "Whether it's course accessibility or having the most relevant, up-to-date equipment, we want to provide opportunities for students to succeed."
Meanwhile, the credit hour requirement for the associate degree program will drop to 63 credits from 70 credits beginning this fall.
"In going over the curriculum, we identified some things that were redundant and some things that could be combined with other courses," Sartin said.
In the process, some training has been added in areas such as shop management and public speaking.
"Automotive service technicians need to be able to communicate with customers," Sartin said. "We've designed our courses to revolve around an automotive repair shop setting."
Another way Piedmont Tech connects with local businesses is by hosting professional education sessions. Carquest Auto Parts has conducted an ongoing series where it brings experts to Piedmont Tech to inform local repair pros about changes in vehicle parts and systems.
"Things are changing every day and this industry is constantly having to stay updated," Sartin said. "We encourage that. Carquest uses our facilities to open this up to other repair shops."
The Augusta Chronicle recently reported that between retirements and job growth, more than 230,000 auto repair jobs will come open nationwide by 2024.
"We've got a huge demand for automotive technicians right now," Sartin said.
Piedmont Tech is helping to meet that demand, boasting an 83 percent job placement rate for automotive technology program graduates. The average salary for an automotive service technician in South Carolina is $37,500 per year, according to the latest figures from the U.S. Bureau of Labor Statistics.
To learn more about the Automotive Technology program at PTC, contact Gerald Sartin at (864) 941-8468 or sartin.g@ptc.edu.