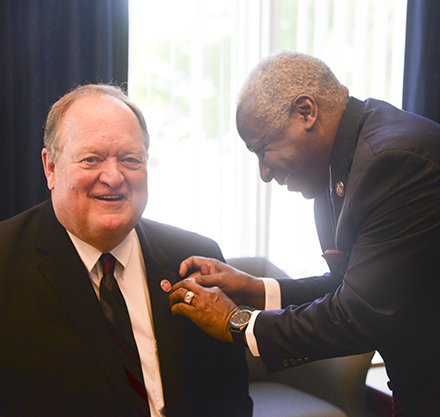 Partnership Expands Options for Lakelands-Region Degree-Seekers
May 1, 2018
Piedmont Technical College (PTC) and South Carolina State University (SC State) signed an articulation agreement today that will create more options for students who would like to begin their studies at Piedmont Tech and then complete a bachelor's degree program at SC State.
SC State and PTC have had a longstanding partnership to offer students the opportunity to complete their bachelor's degrees in Electrical Engineering Technology and Mechanical Engineering Technology on PTC's Greenwood Campus. The two institutions are committed to continuing and strengthening this partnership.
In order to offer more opportunities for PTC students to transfer to SC State, the institutions have worked on articulation pathways in the following majors and are committed to keeping these opportunities up-to-date and relevant.
1.         BS Accounting
2.         BS Agribusiness
3.         BS Criminal Justice
4.         BS Early Childhood Education
5.         BS Economics
6.         BS Electrical Engineering Technology
7.         BA English
8.         BA History
9.         BS Management
10.       BS Marketing
11.       BS Mechanical Engineering Technology
12.       Mechatronics Technology to BS Mechanical Engineering Technology
13.       Mechatronics Technology to BS Electrical Engineering Technology
14.       BA Political Science (Pre-Law)
15.       BA Political Science (Public Administration)
16.       BA Psychology
17.       BS Social Work
18.       BA Sociology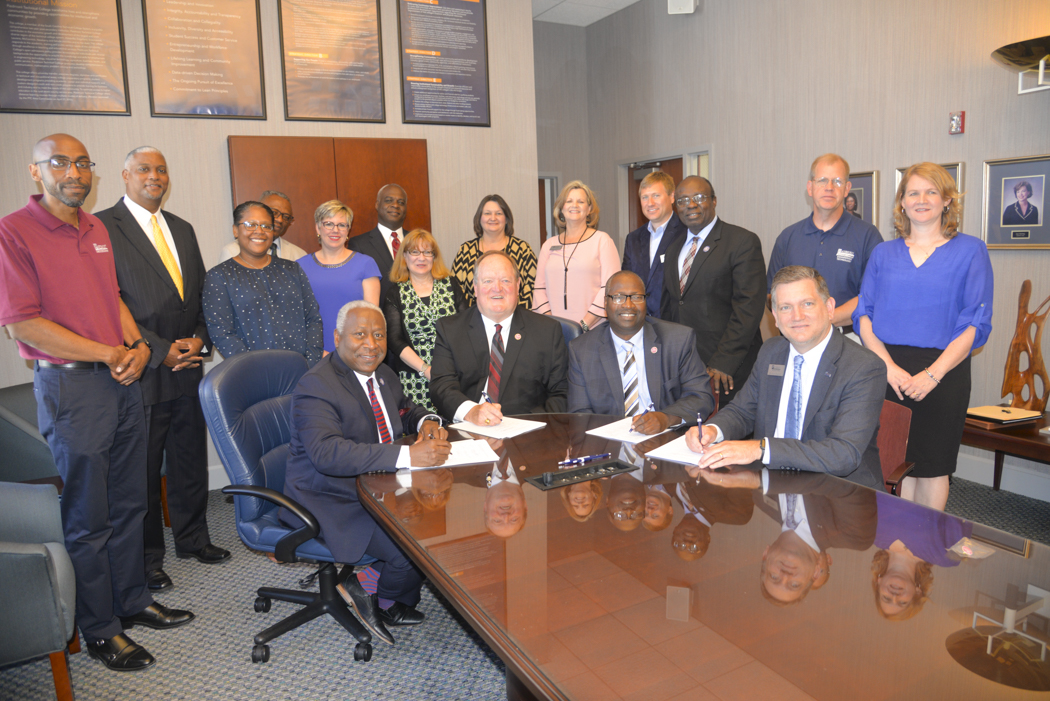 "As workforce needs continue to grow across South Carolina, it is critical that we work together in higher education to ensure that a seamless pathway is in place for students to attain the postsecondary training they need to fill the jobs that are in demand today," said Ray Brooks, president of PTC. "We are working together to create additional opportunities for those students to pursue the next level of their education, whether their ultimate goal is a bachelor's, master's or a doctoral degree."
This new agreement illustrates the commitment of both institutions to providing better-defined, streamlined transfer opportunities to students in the Lakelands region of South Carolina.
"SC State prides itself on developing relationships with academic, business and community entities. Our partnership with PTC is an example of our new strategic initiative, "Transformation Through Collaboration." PTC students will have an opportunity to transfer from PTC to SC State to further their pursuit of even higher degrees. This partnership further supports students remaining in South Carolina to contribute to the state's workforce needs," said James E. Clark, president of SC State.
The collaboration between SC State and PTC is focused on the greater good of students in PTC's service region, especially first-generation students. Both institutions are committed to expanding access to college by providing flexible, cost-effective academic programs.
This renewed and expanded partnership will offer PTC students more options as they prepare for careers, and as they work toward transferring to a four-year institution to pursue a bachelor's degree. The agreement will provide a seamless transition for those who would like to begin their collegiate career closer to home and then transfer to SC State.
"Part of our strategic plan is to provide direct pathways so students know how to get where they want to be," said Dr. Jack Bagwell, vice president for academic affairs at Piedmont Tech. "It's important that we are able to tell them from the beginning of their time with us about these pathways. This agreement is an opportunity to make those pathways clear."
Dr. Learie Luke, provost and vice president of academic affairs at SC State, is excited about the partnership with PTC. "Providing access to higher education has been a hallmark of SC State since its founding" Dr. Luke said. "Preparing more baccalaureate-ready graduates is an absolute necessity for South Carolina to continue building its economic infrastructure."
SC State University
Founded in 1896 as a land-grant institution with a mission of providing service to the citizens of the state, South Carolina State University has evolved from a small teachers' college into a major University center of learning and research. Located in Orangeburg, S.C., with a student population of some 2,600, South Carolina State offers more than 50 different fields of study on the undergraduate and graduate levels. South Carolina State University is accredited by the Southern Association of Colleges and Schools and is a member of the Council of Graduate Schools.
Piedmont Technical College
Founded in 1966 and accredited by the Southern Association of Colleges and Schools Commission on Colleges, Piedmont Technical College is a comprehensive two-year college offering university-level education and hands-on career training. With locations in each of the seven counties we serve--Abbeville, Edgefield, Greenwood, Laurens, McCormick, Newberry and Saluda--as well as an online campus accessible anywhere there's an internet connection, we work to make the advantages of higher education available to everyone.
PHOTO CAPTIONS:
Officials from SC State University and Piedmont Technical College gather in Greenwood for the signing of the articulation agreement.
SC State President James Clark places an SC State pin on the lapel of PTC President Ray Brooks.