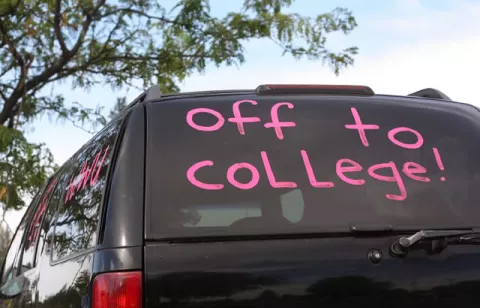 The Perfect College Fit: A High School Student's Guide to Choosing the Right College
In truth, there isn't any one school that will fit you. You probably could be happy and successful at several schools. Nevertheless, you must make a choice. So how do you do it?
First, start early. Your parents, your counselors, maybe even your friends will tell you college can be some of the most important years of your life. Deciding where you want to go is something you need to take seriously and not decide on the spur of the moment.
10 Worst Reasons For Choosing a College
My girlfriend/boyfriend is going there.
Most of my friends are going there.
My guidance counselor (or my computer) told me it was the right school for me.
It's a party school.
It accepted me, and I want to stop applying.
It's the only school I know about.
My parents went there.
It looks cool in the virtual tour/guidebook.
It's as far away from home as I can get.
Their football team is my favorite.
Make Time for Research
It's a good idea to start exploring colleges in your junior year of high school, if not sooner, and to apply to schools early in your senior year.
Begin by considering which is more important to you—the programs offered or the type of institution. Some students know exactly what they want to study and search for schools that have the leading programs in their field. Others choose the type of university they want—large or small, urban or rural, private or public—then explore those.
The Internet, guides to U.S. colleges, college rankings, and materials your high school counselor has on file can get you started. Attend college fairs in your community, pick up the free materials, ask lots of questions, and bring paper and pencil so you can make notes and write down your impressions.
Don't overlook your local technical college. Low tuition rates, an excellent faculty and easy transfer options make it the perfect start for students who plan to earn four-year degrees. Two years at a technical college can shave thousands of dollars from your tuition bills, or boost your GPA allowing you to transfer to your dream school.
Get Ready to Apply
By this time, you should have identified several schools that meet your criteria. Narrow this list down to ones you want to investigate in depth. Create your own college calendar so you can keep track of when applications are due, when you sent your application in, and when admission decisions are made.
Even if you're earning a doctor's salary, a big student loan can take a big bite out of your paycheck every month. So when you're making your choice, think about where you're going to thrive. And also think about where you want to be financially after graduation.
Contact the institutions directly and ask for more materials. Watch how quickly they respond to your request to see how they treat prospective students.
Then plan some site visits. You really can't get the feel of a place and figure out if you will fit in from a brochure or CD. Go on campus. Talk with people in the Admissions Office. Have lunch in a student cafeteria. Walk through classroom buildings.
You will find you respond differently to different places, and this is good. It helps you make the decision of where to actually apply. Don't ignore your instincts. Include them as one more piece of information.
Application Time
Filling out an application is not fun. It is a challenge that you may repeat several times, but most colleges have online applications, and almost 300 colleges accept the Common Application, and that should make the process easier. Seventy percent of students apply to three or more colleges, according to the Higher Education Research Institute.
Make sure your technical college is on that list. Piedmont Technical College's application is free, and you have the option to take summer classes even if you decide to enroll at another college.
After you have done your work, and submitted your application, the waiting begins. Keep an open mind and consider that 84 percent of all colleges accept more than 50 percent of the students who apply, according to statistics from the National Association for College Admission Counseling.
Make the Right Investment
When you think about "college" as it's presented on TV or in movies in our culture, a lot of time is spent on how college is a time for self-discovery, or for figuring out what to do with your life. And those are, without a doubt, important parts of the college experience.
But college is also about making a wise investment. Study after study shows that a college education has real, immediate benefits for your earning potential, and even bigger benefits down the road.
Because of climbing tuition rates across the country, it's also true that student debt has now surpassed $1 trillion. Even if you're earning a doctor's salary, a big student loan can take a big bite out of your paycheck every month. 
So when you're making your choice, think about where you're going to thrive. And also think about where you want to be financially after graduation.
The good news is that, wherever you're headed, you can get a solid start at Piedmont Technical College. If you're headed toward a bachelor's degree, you can start here, avoid a big chunk of debt, and end up with the same degree on your resume after transferring as someone who started at your destination school as a freshman.
As you're exploring colleges, be sure to check out our transfer and bridge programs, and the many technical training options that are available to you here. And if we can help you think through your options, don't hesitate to contact our Admissions Office. Our Admissions counselors help dozens of students every day get on track toward their goals. 
*Adapted from CareerFocus Magazine