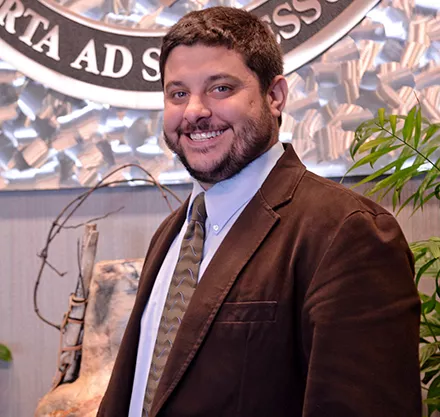 Pharmacy Technology Program Director Wins National Excellence Award
Clay Sprouse, pharmacy technology program director at Piedmont Technical College, has been named the 2016 Piedmont Technical College Visionary of the Year award for faculty and will be recognized as a 2016 National Institute for Staff and Organizational Development (NISOD) Excellence Award Recipient.
"I am thrilled that my peers think enough of what I'm doing to nominate me for this honor," Sprouse said. "Being a first-time instructor when I started here at PTC, this award validates my decision and assures me that I am on the right path."
The NISOD Excellence Awards, the most coveted award among community and technical college educators, were created to help recognize the contributions and achievements of faculty, administrators and staff. Sprouse was recognized for increasing standards in the pharmacy technology program at Piedmont Tech.
During his time at PTC, Sprouse has piloted and established several programs within curriculum including the Pharmacy Virtual Externship, Pharmacy Inventory Project, Clinical Artifact Creation, Group Prescription Competition and Medication Safety Project. He has served on the South Carolina Society of Health-System Pharmacists (SCSHP) Board of Directors where he worked on behalf of state certified pharmacy technicians on pharmacy legislation during meetings with Senators Harvey Peeler, Floyd Nicholson and Danny Verdin. He was also recognized as the 2015 SCSHP Pharmacy Technician of the Year.
"Clay is always working to improve his delivery of class materials so that he can reach all the students where they are," said Beverly Burton, human services department head. "Clay is forward-thinking and stays involved with what is going on at many levels through his service at state and regional levels so that the program is always current for students." 
Sprouse graduated from Emerald High School and earned his bachelor's degree from the University of South Carolina. After many years working in retail pharmacy, he came to Piedmont Tech as the pharmacy technology program director in 2011. He received his Masters of Education in Curriculum and Instruction with emphasis in Educational Leadership from Southern New Hampshire University in December.
"We are proud of all that Clay has achieved since joining the faculty at Piedmont Tech," said Dr. Jerry Alewine, dean of health science. "This award is simply a reflection of all the hard work and dedication he puts into preparing our students."