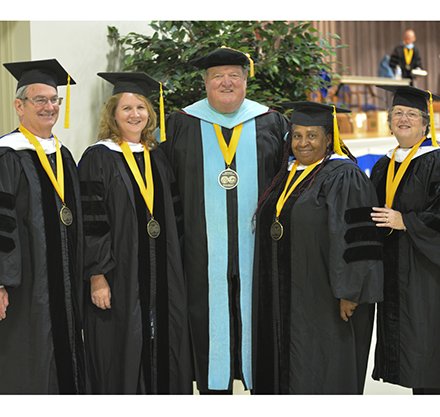 Piedmont Tech Awards Highest Honor at Recent Commencement
August 6, 2019
Piedmont Technical College (PTC) President Dr. Ray Brooks honored five college associates and community leaders with the Presidential Medallion, the college's most prestigious award, at PTC's recent summer commencement exercises. Instituted in 1991 during the college's silver anniversary celebration, the medallions recognize individuals who have made significant contributions toward excellence in education. Receiving the award were: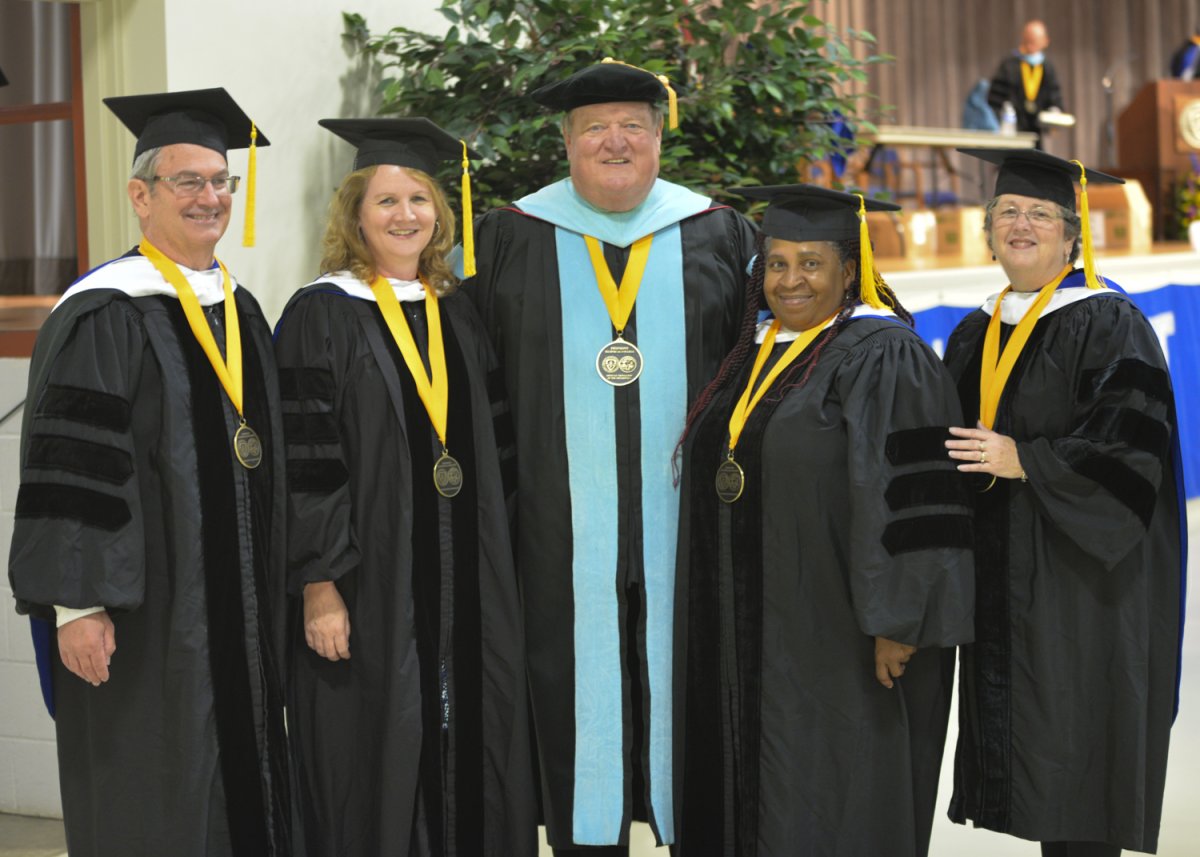 Brenda Brooks ― There is nothing dearer to retiring Piedmont Tech Development Coordinator Brenda Brooks than family. She is deeply grateful for being part of several families, including those represented by her church, her marriage and the college. She is wife to Roy and mother to children Jason, Joshua, Jessica and Jacqueline. Brooks holds a bachelor's in business administration from Wesleyan University as well as two associate degrees from PTC in business/accounting and business/office management, graduating from both institutions cum laude. She started more than 20 years ago as a PTC work-study clerk and over the years ascended to her current position. She attends Siloam Baptist Church in Ninety Six.
Claudia Edwards ― Claudia Edwards began working at Piedmont Tech as an English instructor and coordinator of Developmental and Transitional English in 2007, helping underprepared students find success in college. Ten years later, she became academic program director and instructor for the Early Care and Education program at the college, a role she still fills today. Edwards earned her bachelor of arts in English from Presbyterian College and her master of arts in teaching early childhood from the University of South Carolina. She has been married to PTC physics instructor John Edwards for 28 years, and the couple has been blessed with five children: Suzanna, James, Davis, Adam and Evan. She serves in the preschool and children's ministries at North Side Baptist Church.
John Edwards ― Piedmont Tech Physics Instructor John Edwards says he is proud to be recognized alongside his wife, Claudia, who also serves on the PTC faculty. With Piedmont Tech for 13 years now, Edwards earned both his bachelor's in math and physics, as well as his master of arts in teaching physics from the University of South Carolina, where he graduated magna cum laude. He is a former instructor with Upward Bound, a TRIO program that provides support for students preparing for college. He is a member of Phi Beta Kappa and volunteers at Greenwood Christian School.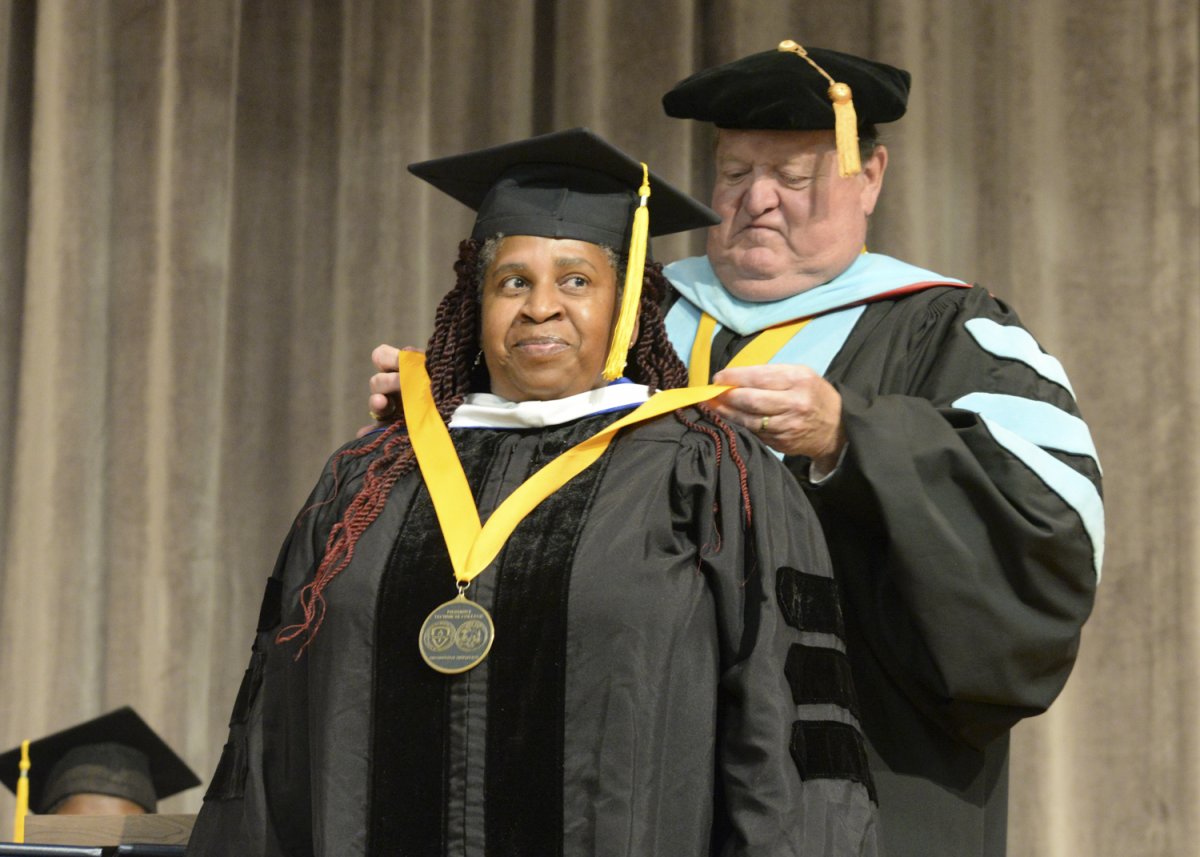 Vernessia Wideman ― PTC Admissions Specialist Vernessia Wideman of Greenwood came to Piedmont Tech after a company she was working for relocated to Mexico. She hit the ground running and has amassed a collection of skills as well as three associate degrees in computer technology ― for network, internet and programming. She became a PTC work-study student in 2006, a contract employee from 2008-2012 and a full-time employee in 2012. The Phi Theta Kappa International Honor Society, which recognizes the academic achievement of state and community college students, recently honored Wideman for five-years of service as an advisor to PTC's Omega Chi Chapter. Vernessia has a daughter, Felisha, and absolutely loves her job in Admissions. "I love working with the different students who come in every day. We work one-on-one with them," she said. "When they get their acceptance letter, it's priceless!"
Jeff Wilson ― A native of Oregon, Jeff Wilson worked in the telecommunications industry in Idaho, Washington, and North Dakota before moving to Abbeville in 2013 to assume the role of chief executive officer of WCTEL and president of WCFIBER. While in Abbeville, he helped establish the Freshwater Coast Community Foundation and serves as co-chair for the foundation's $1.2 million Abbeville Promise capital campaign, which raises scholarship funds for Abbeville residents wishing to attend Piedmont Technical College. Married for 40 years, he and his wife, Sandy, have a daughter, Jennifer. Wilson is active in several civic organizations in his adopted hometown.
PHOTO CUTLINE
L-R: John Edwards, Claudia Edwards, Dr. Ray Brooks, Vernessia Wideman, and Brenda Brooks (Not pictured, Jeff Wilson)