Piedmont Tech Begins OnDECK Program in Edgefield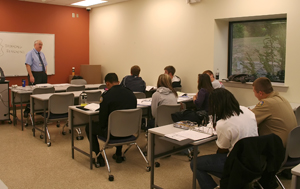 High school students in Edgefield will now have another path to help them begin their college education early.
Piedmont Tech began offering OnDECK courses at the Edgefield County Center this fall for students at Strom Thurmond High School.
"We are very excited to be able to offer this unique opportunity to students in the Edgefield County area," said Shelby Dominick, director of dual enrollment.
PTC's dual credit courses allow students to fulfill high school diploma requirements while earning college credit simultaneously. Traditional dual credit courses are taught at the high school by teachers who meet the same criteria as Piedmont Tech instructors. OnDECK courses are taught on PTC's Greenwood campus and at many of the county centers for high school students in the seven-county region and include general education courses as well as specialized programs.
"Over the three years that I have taught OnDECK and dual enrollment classes, I've come to respect high school students very much," said Rick Barbare, instructor for the Edgefield OnDECK classes. "These students are committed and at the top of their class."
One of the greatest perks for participating in dual enrollment is that these courses are a huge financial savings to families.
"When a student participates in six credit hours, two classes per semester, we apply lottery tuition assistance to the student's account and we as a college have chosen to waive the rest of the tuition for the student," said Dominick. "We believe that this is a great way to pay it forward to the communities we serve."
"My parents encouraged me to take the dual enrollment classes because they are free and close to home," said Megan Rudd, a senior at Strom Thurmond.
To participate in dual enrollment, students must receive parental permission, complete a placement test or submit acceptable SAT or ACT scores and have the approval of their guidance counselor or dual enrollment liaison. All grades earned are reflected on each student's official PTC transcript. Most courses are transferable to other colleges and universities.
"The learning environment is totally different than a high school setting. I am more accountable for my work," said Lavon Coleman, a senior at Strom Thurmond. "I plan on applying to the Naval Academy and I feel that these classes will prepare me for next year so I won't feel so overwhelmed."
Dominick said that dual enrollment gives students the best of both worlds. "It allows students the comfort of being in a classroom of their high school peers while getting their feet wet in the college experience," she explained.
"By the time I finish my junior year, I will have 21 credit hours for college and I plan to take more classes next year," said Ashley Bodiford, a junior at Strom Thurmond.
Students and parents interested in dual enrollment opportunities should contact their school's guidance counselor or Dominick at (864) 941-8397 or dominick.s@ptc.edu.
Photo Caption: Piedmont Technical College began offering OnDECK courses at the Edgefield County Center this fall. Instructor Rick Barbare, left, begins the Introduction to Philosophy class with students from Strom Thurmond High School. High school students will receive hands-on instruction and fulfill high school diploma requirements while earning college credit simultaneously.