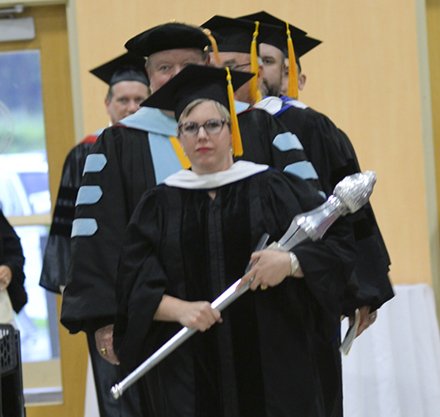 Piedmont Tech Fall Graduation Set for December 13
December 6, 2018
Piedmont Technical College (PTC) will conduct its fall commencement on Thursday, Dec. 13, at 3 p.m. in the James Medford Family Event Center on the college's Lex Walters Campus-Greenwood.
Graduation speakers will be Yulissa Alvarez, an associate in arts graduate from Newberry, and Natalie Wynn, a business administration graduate from Lincolnton, Georgia.
Alvarez, 21, plans to enroll at the University of South Carolina next spring to continue her education, studying in either business or mass communications. She appreciated not only the cost savings of attending PTC for her first two years of college, but she also felt the smaller campus, quality instructors and wide diversity of students made PTC the right fit for her.
"I have seen my mother for years work seven days a week, over 14 hours a day at times, and want to give up some days," Alvarez said. "The biggest lesson she has shown me is to never give up. My parents did not have the opportunity to have the education many parents here in America have, but they have taught me the simple things in life, things like morals, values, beliefs, hard work and something I stand immensely proud of, my Hispanic culture."
The youngest of three children growing up in a single-parent home in McCormick, Wynn is grateful for the lessons her mother taught her, including the importance of treating others with respect and working hard to achieve your goals. The mother of two boys has been working as owner and licensed cosmetologist at Anointed Hands salon in McCormick for nearly 20 years. A divorce when her sons were quite young shook her world.
"Now, walking in my mother's footsteps as a single parent, I didn't know which direction to go. I felt my dreams and aspirations were disappearing right before my eyes," Wynn said. "One thing I knew for sure was that I had to be an example and role model for my two sons, just as my mother had been for me."
Wynn remarried in 2011 and decided to enroll in PTC's business administration program, with aspirations to open her own cosmetology school one day. "All of my Piedmont Tech instructors have made chasing my dream a journey to remember," she said. "The race is not won by only the swift, or the strong, but also by the one who endures until the end!"
The Emerald City Brass will provide musical entertainment at the graduation ceremony. Due to limited seating, tickets will be required for all guests in attendance. Each individual ticketholder, including children, will be entitled to one seat only.
PHOTO CUTLINE
As she did for the summer graduation, PTC Humanities Department Head and Spanish Instructor Jennifer Lopes will serve as the macebearer for the fall commencement.