Piedmont Tech Grad Thrives in Apprenticeship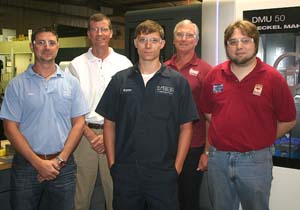 Kenny Price had his foot in the door with Burnstein von Seelen even before he completed his machine tool technology degree at Piedmont Technical College.
The Abbeville company took Price on as an apprentice in the Tool and Die division, which has now led to a full-time position with the company. 
And they're looking for even more machinists.
"I contacted Bob (Koster) because we were struggling to find tool makers," said Chris Ramey, tool room supervisor at Burnstein. "Seventy-five percent of my workforce is at retirement age."
Burnstein isn't alone in having difficulty finding employees. In fact, according to the 2012 Talent Shortage Survey, a study conducted each year by ManpowerGroup, finding qualified machinists is one of the top ten most difficult recruiting tasks for companies in the United States, and it has been for five out of the last six years.
After conducting national searches for qualified workers, the company decided to take a proactive approach to the problem. Ramey met with Koster, department head for metal trades at PTC, seeking qualified students to become apprentices at Burnstein. He said he was impressed with Price's maturity level and potential and offered him the position.
While apprenticeships help the company ensure employees have the right skills to be productive, Ramey says he has to strike a balance between teaching and keeping the shop running.  The training provided by the machine tool technology program at Piedmont Tech creates the solid foundation Ramey and other machine shops throughout the region need.
"I was very prepared with the basics," said Price. "The instructors at Piedmont Tech taught me a lot on the manual machines."
"Bob works with these students and knows which students have the mentality to be a good machinist," Ramey said. "They find the students that show the ability and we can take them and work with them."
Price received his associate degree in June. He's half-way through his apprenticeship, but he is already excelling at his job.
"Kenny has improved over time, so we've put him into a position that opened up due to a retirement," Ramey said. "We will continue the apprenticeship, but as he becomes more self-sufficient, we can bring in a new apprentice."
The apprenticeship program is the best-practice method for introducing students to the machine tool technology field, Koster said. The companies participating in the program are being proactive and preparing their own workforce from the beginning.
"What Kenny is doing now is what most machine shops used to do," Koster said. "Little by little, the journeyman would teach apprentice workers to run the machines and allow them to do more as they learned. So by doing this, Burnstein is 'growing their own.' It's the best way to fill these positions."
There are also benefits for workers who complete their training in this way, said Ramey. 
"When [Kenny's] done with the apprenticeship program, he gets his journeyman toolmaker, which is an outstanding thing to have for the future. When people see that in our field of work, they know that this guy knows what he's doing," he said.
The Machine Tool Technology program at Piedmont Tech will continue to provide the workforce for machine shops like Burnstein through programs like the apprenticeship. And Ramey said that as long as there's industry, good jobs will be available for well-trained machinists. 
"It's a secure, solid career. Within just this fifty mile radius, there are probably 30 or 40 machine shops, and they're all looking for machinists," said Ramey. "As long as there's always someone out there looking, and you have the skills they need, you'll always have a job."
For more information on the machine tool technology program, contact Koster at (864) 941-8471 or e-mail at koster.b@ptc.edu.
Photo Caption: Kenny Price, a machine tool technology graduate from Piedmont Technical College (center), is currently participating in an apprenticeship program with Burnstein von Seelen in Abbeville. Pictured are, front from left, Chris Ramey, tool room supervisor at Burnstein; Price; and Linden Burnstein, human resources manager for Burnstein. Back, Don Lytch, machine tool instructor at the G. Frank Russell Career Center; and Bob Koster, metal trades department head at Piedmont Tech.