Piedmont Tech Graduates First Practical Nursing Students in Laurens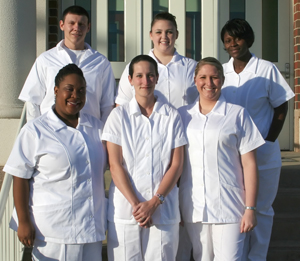 The new practical nursing program for Piedmont Technical College based at the Laurens County Higher Education Center recently had its first class of graduates from the Laurens County program.
"This has been a great group of students," said Rosalie Stevenson, interim dean of nursing. "Our focus in the nursing program is lifelong learning. We don't want our PNs to stop; we encourage them to go on to the next step."
The first graduating class consisted of 27 students from not only the Laurens County area, but from locations as far away as Lexington, Simpsonville and Spartanburg.
"As long as I can remember, I have always wanted to be a nurse," said Laporshia Drennon of Abbeville. "I chose Piedmont Tech because I love the small, family atmosphere. My experiences at the Laurens County campus have been great with the wonderful instructors and the excellent clinical facilities."
The PN program in Lauren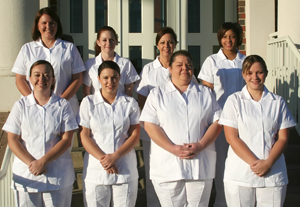 s began as a course offered at Clinton High School. When the program was on the verge of closing in 1977, Piedmont Technical College took control. The classes briefly continued to be housed in a building behind Bailey Hospital before the program was relocated to the Greenwood campus.
The schedule for the two locations differs. The PN class in Laurens begins in January and finishes in December while the class in Greenwood begins in the fall and graduates in August. This allows more students to participate in the program while not overloading the local health care facilities who serve as clinical sites.
"This allows greater versatility and flexibility for not only the students, but the instructors," said Mark Vaughn, nursing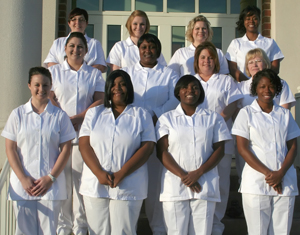 instructor.
The PN program not only delivers a highly skilled professional, it also provides a smooth transition for those who wish to continue their education and earn an associate degree to become an RN.
"Many LPNs are coming back, even after many years in the field," said Stevenson. "By providing the classes in Laurens, we are giving them several options for the future."
"The program is challenging, but doable," said Lashavious Bluford of Mountville. "I am excited to become a licensed practical nurse."
For more information on the practical nursing program, contact the LCHEC at (864) 938-1505 or PTC admissions at (864) 941-8369.
Photo 1 Caption: Recent graduates of Piedmont Technical College's practical nursing program at the Laurens County Higher Education Center were recognized in a pinning ceremony in December. The Laurens County students and their hometowns are, front from left, Lashavious Bluford of Mountville; Amanda Eubanks of Laurens; and Kayla Eubanks of Laurens. Back, Jason Knight of Laurens; Kayla Pennington of Clinton; and Lakeina Shelton of Clinton.
Photo 2 Caption: The Greenwood County students and their hometowns are, front from left, Nicole Calhoun of Hodges; Amy Day of Greenwood; Frances Gault of Ninety Six; and Kayla Kerr of Greenwood. Back, Amy McCoy of Troy; Ashleigh McDaniel of Greenwood; Anna Morris; and Kandace Ryans of Greenwood.
Photo 3 Caption: The students and their hometowns are, front from left, Lacey Berry of Saluda; Kenyatta Counts of Newberry; Laporshia Drennon of Abbeville; and Kimberly Gary of Prosperity. Second, Deidre Hall of Lexington; Antoinette Ingram of Simpsonville; Jennifer Long of Pomaria; and Tatyana Nikiforova of Simpsonville. Back, Sherry Rooney of Newberry; Erika Scott of Honea Path; Heather Seawright of Donalds; and Candice Smith of Spartanburg.