Piedmont Tech Gunsmithing Holds Fundraiser Drawing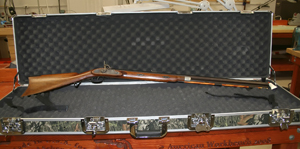 The gunsmithing program at Piedmont Technical College is holding a fundraising drawing to help the program.
The prize for the drawing is a Lyman .50 caliber rifle – "Great Plains" model with Iron sights and all the necessary accessories – that was donated to the program by Ted Schenck.
Schenck began his association with the program during the first semester the gunsmithing certificate was offered at PTC. He completed both certificates and became an adjunct instructor for the gunsmithing department. Upon taking a position with the Forest Service as a staff officer for the Tongass National Forest in Alaska, Schenck donated 30 guns along with the black powder gun being used for the benefit.
"His knowledge and skill as an instructor will be greatly missed along with the professional expertise he gained in all his job experiences," said Bob Koster, metal trades department head. "The donation he made will help enhance the instruction we can offer as well as provide a means to raise money to assist the program."
The drawing will be held July 1 and tickets are $5 each. For more information or to purchase a ticket, contact Koster at (864) 941-8471.