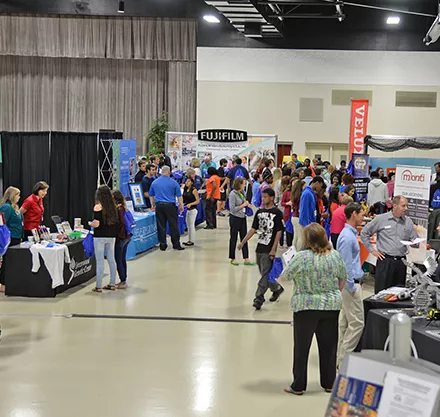 Piedmont Tech Hosts Business and Industry Showcase
Greenwood Partnership Alliance in association with Piedmont Technical College recently held the inaugural Greenwood County Business and Industry Showcase, which featured more than 20 Greenwood industries that provided information to approximately 1500 area 10th and 11th graders, as well as seniors from the G. Frank Russell Technology Center. The showcase was hosted in the James Medford Family Event Center at Piedmont Tech.
"The excitement level of the students has been very high," said Rusty Denning, associate vice president for Continuing Education and Economic Development. "Many of the students had no idea what local industries have to offer in Greenwood."
The idea for the showcase came about when the Greenwood County Industry Council, convened by the Partnership Alliance, began looking for ways to get students interested in manufacturing careers. The Partnership Alliance took local industries' workforce concerns to Piedmont Technical College, Greenwood District 50, Greenwood District 51 and Greenwood District 52 and the idea for a showcase was born.
The focus of the showcase was introducing students from public, private and homeschools in Greenwood County to the industries so they could begin to think about their career goals.
"The showcase is not a job fair," said James Bateman, business development manager at the Greenwood Partnership Alliance. "These high school students are coming to learn what decisions they have to make about their education today in order to have career success in the future. They are learning about the requirements these companies have for the skilled positions they have here in Greenwood."
Based on the reactions of the participating businesses, the first showcase was very successful. The Partnership Alliance hopes to make the showcase an annual event.
"I've been very impressed with the young people who have come through and the intellectual questions they have asked," said Brenda Przybyla, human resources manager for Colgate-Palmolive. "I think they can take back a better understanding of what all of Greenwood has to offer, knowledge they would not have had without this event."
"At the end of the day, it is truly a community event," said Heather Simmons Jones, ‎CEO for the Greenwood Partnership Alliance. "Looking around and seeing the students and the amount of engagement they have and the types of questions they're asking, it feels good to be part of the Greenwood community today."