Piedmont Tech Implements Call Me MISTER Program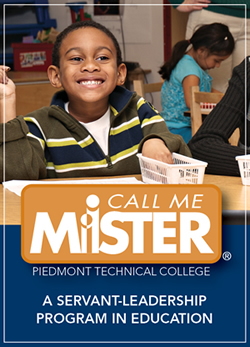 Through a new program at Piedmont Technical College called Call Me MISTER, the college is taking action to address a problem of national proportions.
"The Call Me MISTER program is an initiative to promote careers in education for African American males," said Steve Coleman, director of Project Genesis. "There is a large gap in the number of African American men in the classroom."
The Call Me MISTER (Mentors Instructing Students Toward Effective Role Models) Initiative was established at Clemson University in 2000 to increase the number of African-American males teaching in K-12 schools.
Students targeted by the Call Me MISTER initiative are those African American men enrolled in the Associate in Arts or Associate in Science programs with the goal of transferring to a four-year college or university to major in education. The Call Me MISTER program was included in the original "Project Genesis: Where Success Begins" program that began last fall. It is funded by a Predominantly Black Institutions (PBI) grant from the U.S. Department of Education.
"Too many of our African American men are struggling, so our goal is to work with our target population to make sure 100 percent of them graduate and continue on to pursue a bachelor's degree or a rewarding career," said Coleman.
The Genesis program will work closely with the School of Arts and Sciences to ensure that all participants will meet the requirements to transfer seamlessly to a four-year college with a Call Me MISTER program. This includes universities such as Clemson, College of Charleston, Lander University and South Carolina State University.
"There are so many opportunities available in education, not just in the classroom but as administrators," said Coleman. "I want the students who participate to know that pursuing a four-year degree is attainable."
For more information on Project Genesis and the Call Me MISTER program, contact Coleman at (864) 941-8603 or coleman.s@ptc.edu.