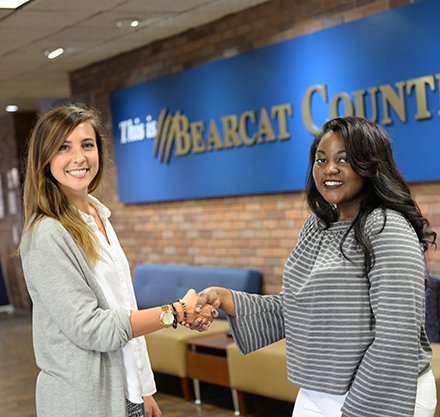 Piedmont Tech, Lander Build New Bridge to Help Students Succeed
September 5, 2017
Te'yanna Mathis had an idea – go to Piedmont Technical College for two years, then transfer to a four-year school. She just didn't know which university.
"I was trying to find a good plan for me," said Mathis, who graduated from Greenwood High School in June.
After talking with PTC staff, Mathis discovered a new program that she described as "the best of both worlds."
This fall begins the Bearcat Bound Bridge Program, a dual admissions partnership between PTC and Lander University that allows for a more seamless transition when students transfer.
"When I heard about it, I thought it was great," Mathis said.
Under the program, Bearcat Bound students receive several benefits, including:
A Lander University student ID card, providing access to campus facilities and free entrance to sporting events and fine arts performances.
Access to dual academic advisement.
Priority registration for their first term at Lander upon successful completion of their PTC requirements.
"These benefits connect students to where they want to go and what they want to achieve," said Dr. Jack Bagwell, vice president for academic affairs at Piedmont Tech. "It builds a better pathway."
Bearcat Bound students are guaranteed admittance to Lander University from PTC if they meet minimum requirements, including a 2.0 GPA and 30 hours of college-level coursework.
"I plan on finishing at Piedmont Tech with my associate in arts degree and then going to Lander and majoring in marketing," Mathis said.
Even if a student transfers to Lander before obtaining an associate degree, they will be able to transfer Lander credits back to PTC to complete that credential.
Mathis said she is looking forward to familiarizing herself with the Lander campus, faculty and staff while studying at Piedmont Tech.
"It will let me get involved," she said of having a Lander ID. "And I definitely want to go to the student activities, like plays and games."
Sydney Crawford, associate director of transfer admissions at Lander, said 32 PTC students have enrolled in the bridge program this semester and she expected that number to grow. She said Bearcat Bound students are already expressing interest in using Lander's library and fitness center.
"They're really excited," she said.
Lander has long been the most popular transfer destination from PTC, with more than 50 students making the move each year.
"I fully expect that number to increase because of this partnership," Bagwell said.
Students in the seven-county PTC footprint have known for years that it can be much more affordable to start at a technical college and then transfer to a university. Meanwhile, Lander recently received high marks in a report from Schools.com for its affordability among South Carolina universities.
"The Bearcat Bound Bridge Program allows students to get a great education right here in Greenwood at a great price," said Andy Benoit, Lander's vice president for enrollment and access management.
Those interested can contact the Piedmont Technical College Office of Admissions at (864) 941-8369 or visit www.ptc.edu/lander.
"I felt it was a good fit for me," Mathis said. "I would definitely tell other students to consider it, so they can already get involved at the school where they want to transfer."
Photo Caption: Te'yanna Mathis, right, is one of 32 Piedmont Technical College students who has enrolled in the Bearcat Bound Bridge Program with Lander University this semester. She is pictured with Sydney Crawford, associate director of transfer admissions at Lander.