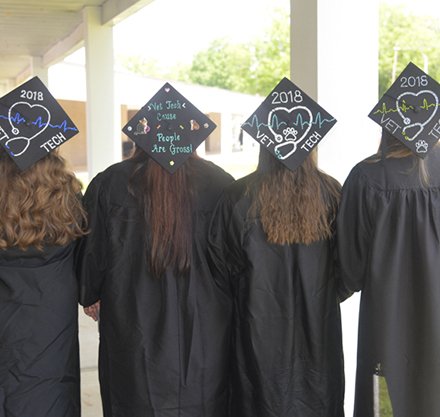 Piedmont Tech Prepares for Summer Graduations
July 24, 2018
Piedmont Technical College (PTC) will hold two summer commencement exercises on Thursday, August 2. An afternoon ceremony for Agriculture, Arts & Sciences, Business, Computer Technology, Engineering/Industrial Technology, and Nursing graduates will take place at 3 p.m. An evening ceremony for Health Science graduates will be held at 7 p.m. Both commencements will take place in the James Medford Family Event Center on PTC's Lex Walters Campus-Greenwood.
Speakers for the 3 p.m. ceremony will be Joan Pittman and Heaven Lee. Pittman is a workforce veteran who has held multiple positions over the decades, reinventing herself as circumstances dictated. Now ― at age 60 and with a 4.0 GPA ― Pittman graduates summa cum laude with an associate degree in administrative office technology with a concentration in medical coding and billing. She believes that it's never too late to learn new things and looks forward to whatever the next chapter brings.
Newark, New Jersey, native Lee arrived in South Carolina in 2014. She wanted to further her education but, being the single mother of a toddler, presented obstacles. With support from her pastor, his wife, and the folks at A Place for Us Ministries in Greenwood, she was able to attend Piedmont Tech full time and work weekends in the ministry's retail shop. On August 2, she will be realizing a dream, graduating with a double major of mechanical engineering and engineering design.
Speakers for the 7 p.m. ceremony will be Wade Timmerman and Heather Benshoof. Timmerman is a former competitive tennis player who was sidelined by an injury. His interest in health and fitness continued despite the setback, and he earned a bachelor's in exercise science from Lander University. He will add to his credentials when he graduates from PTC with an associate in cardiovascular technology. He already has secured employment with Bon Secours St. Francis Health System.
Benshoof exemplifies the notion that if you turn your face to the sun, the shadows fall behind you. Five years ago, after dropping out of high school and having a couple of scrapes with the law, she turned it all around, earning her GED in just two weeks and going on to excel at Piedmont Tech, where she won multiple academic awards and will graduate magna cum laude with an associate degree in human services. She looks forward to using her skills and talent to help others who may be experiencing hardship.
As in the past, the Emerald City Brass will provide musical entertainment. Due to limited seating, tickets will be required for all guests attending the graduation ceremony. Each individual ticketholder, including children, will be entitled to one seat only.
PHOTO CUTLINE
A group of veterinary technology graduates from the Spring 2018 commencement display their decorated caps.