Piedmont Tech Scholarships Helping Produce Successful Grads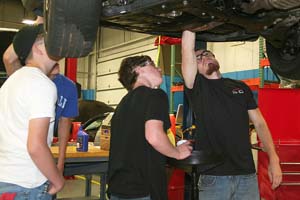 Piedmont Technical College offers the lowest tuition cost of any college within the region, but for many students, even affordable tuition rates may seem out of reach. Assistance is available in many forms, including one of the newest scholarship programs, the Hi-Tech Scholars Program.
Funded as part of a grant from the National Science Foundation (NSF), the program is aimed at increasing enrollment in the areas of engineering technology, computer technology and automotive technology, especially with minority and female students. The scholarships are available to students enrolled full time in one of those program areas who are academically talented but socioeconomically disadvantaged.
"The Hi-Tech scholarship that I received helped me financially with my education along with providing me with a scan tool to use in my profession," said Wesley Martin, a 2012 graduate of the automotive program.
The scholarship awards an average of $700 per semester for tuition, allowing students to use other forms of financial aid for books and fees, and will include a "Loan to Own" laptop or automotive scan tool, meaning the students may keep them upon graduation from their program. Since the scholarship's first offering in fall 2011, 36 students have received the assistance and six have completed their degrees.
"Our primary objective is to get students into these programs that have a positive career potential and get them out and into the work force in two years," said Christina Knight, engineering graphics technology instructor.
For Rebecca Benson, the scholarship allowed the single mother of two to return to Piedmont Tech to complete her mechanical engineering technology degree while also working full time.
"Everybody was willing to jump in and help," Benson said. "I couldn't have asked for a better experience through Piedmont Tech."
Our goal is to provide pathways like this that allows students to economically afford the education they need.
To be eligible for the scholarships, students must be enrolled full time in one of the associate degree programs and have a GPA of 3.0 or higher for entering secondary students or currently enrolled PTC students. Non-traditional students must test into the program via a placement test or SAT/ACT scores and submit an essay about their career pathway choice. All applicants will be required to complete a FAFSA form, an essay, and an interview. Students currently enrolled part time at PTC can apply if they can move to full-time status.
"Our strategic goals are to transform lives and to meet students where they are and take them where they want to go," said Dr. Ray Brooks, president of Piedmont Tech. "But, if you can't afford it, what good is it to have it? Our goal is to provide pathways like this that allows students to economically afford the education they need."
Scholarship application deadline for fall 2012 is July 31. For more information, contact Christina Knight at (864) 941-8483 or knight.c@ptc.edu for engineering technology; Lesley Price at (864) 941-8746 or price.l@ptc.edu for computer technology; or Brad Emery at (864) 941-8468 or emery.b@ptc.edu for automotive technology.
Photo Caption: Piedmont Technical College Hi-Tech scholar Ryan O'Shields of Abbeville, right, assists during the summer automotive camp. Scholarship applications are being accepted now through July 31 for students enrolled full time in the automotive, computer technology or engineering technology programs.