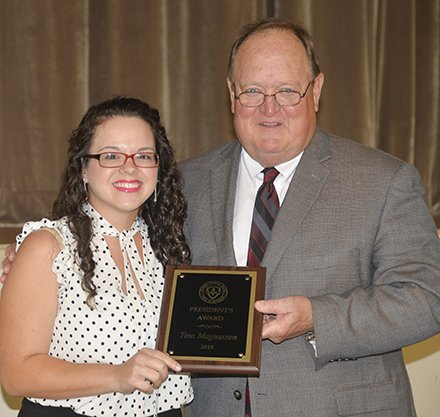 Piedmont Tech Students Honored for Excellence
May 3, 2018
As the days grow warmer and students prepare for graduation or ascension, the presentation of formal accolades commences. Piedmont Technical College (PTC) recently honored the achievements of more than 40 conscientious student leaders at its 44th Annual Student Awards and Recognition Program.
PTC President Dr. Ray Brooks welcomed students, faculty, staff, friends and family members to the ceremony on April 25 at the James Medford Family Event Center in Greenwood. David Rosenbaum, associate dean of students, than asked PTC's Presidential Ambassadors to rise and be recognized for their invaluable leadership over the current academic year.
President's Award
Dr. Brooks presented PTC's most prestigious honor, the President's Award, to Tina Magnussen of Saluda, an associate degree nursing student who is graduating this year. A volunteer firefighter, Magnussen's "first career" was working in law enforcement. After helping deliver more than one baby, she became interested in health care. She plans to begin pursuing a bachelor's in nursing this fall while gaining work experience at a local health care facility. Her ultimate goal is to work in critical care nursing.
Divisional Distinguished Student Awards
Each academic division of the college each year honors its top graduates with the Distinguished Student Award. In addition to Magnussen, winners were: Heather Benshoof of Abbeville, human services; Jessie Estep of Donalds, computer technology; Hunter Gravely of Hodges, building construction; and Nate Mason of McCormick, associate in arts. Deans from each major academic division made presented the awards.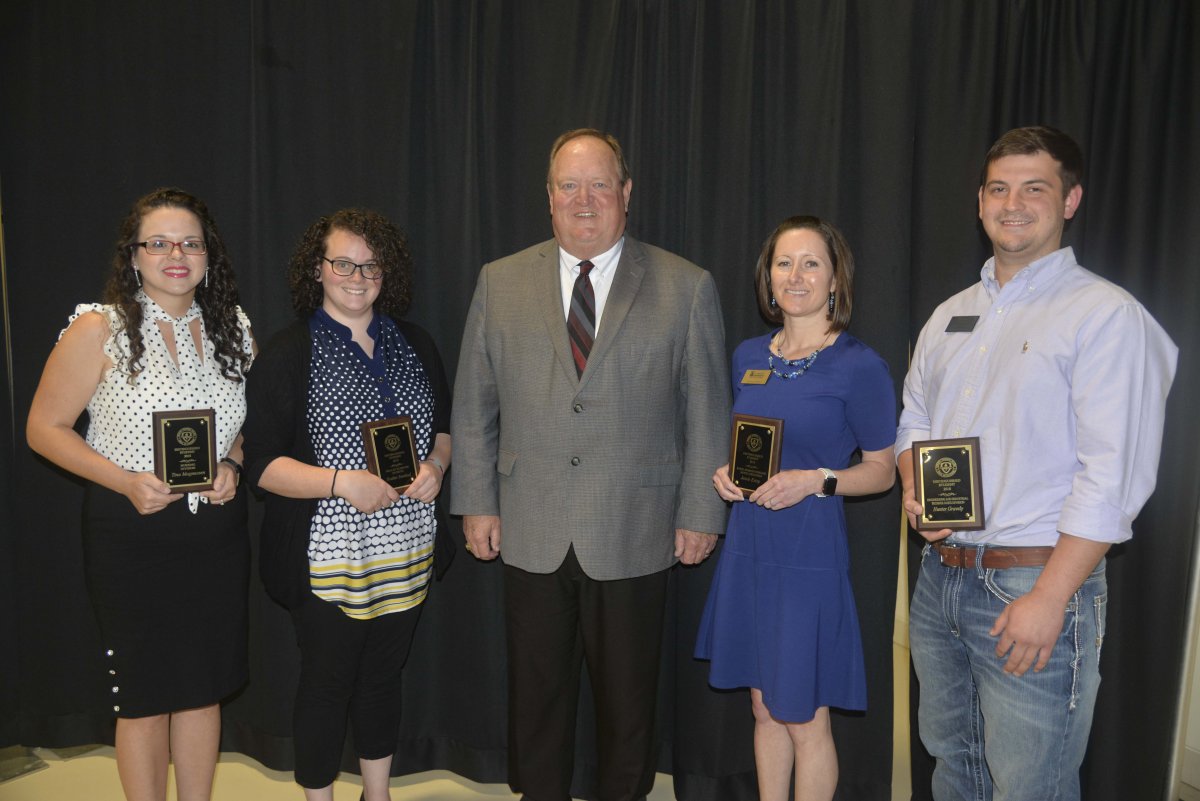 Curriculum Awards
Outstanding graduates in each of the college's academic programs also received special recognition. In addition to the Divisional Distinguished Students above, PTC recognized the following outstanding graduates (in no particular order): Taylor Kirby of Florence, occupational therapy assistant; Alyssa Greenway of Elberton, GA, cardiovascular technology; Breanna Driggers of Greenwood, radiologic technology; Melissa Stephens of Greenwood, pharmacy technology; Eloisa Santiago of Cross Hill, business; Amanda Nickles of Abbeville, surgical technology; Tikesha Whitfield of Honea Path, medical assisting; Caleb Boatwright of Greenwood, machine tool technology; Lucky Maroney of Waterloo, electronic engineering technology; Alexis Boggs of Loris, respiratory care; Wade Timmerman of Donalds, cardiovascular technology; Lauren Truelock of Clinton, practical nursing, Heaven Lee of Greenwood, engineering design technology; Sabrina Ricks of Whitmire, patient care technology; Cameron Rowe of Summerville, horticulture technology; Joan Pittman of Clinton, administrative office technology; Kale Johns of Little Mountain, automotive technology; Jeremy Catoe of Greenwood, mechanical engineering technology; Evelyn Tolentino of Greenwood, criminal justice; Presley Black of Abbeville, HVAC technology; Jessi Boland of Little Mountain, welding; Rachel Hendrix of Walhalla, funeral service; Colin Capell of Prosperity, veterinary technology; Estefania Vera Gonzalez of Honea Path, early care and education; Jose Mora of Newberry, mechatronics technology; Samantha Blair of Fairfield County, agriculture; and Daniel Ngov of Laurens, associate in science.
PHOTO CUTLINES
PTC Divisional Distinguished Students, from left, Tina Magnussen, Heather Benshoof, PTC President Ray Brooks, Jessie Estep, and Hunter Gravely (not pictured: Nate Mason)
PTC President's Award winner Tina Magnussen and PTC President Ray Brooks