Piedmont Tech Welcomes New Presidential Ambassadors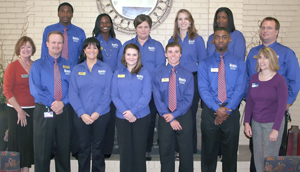 Each year, Piedmont Technical College chooses some of its best and brightest to serve as Presidential Ambassadors. These students represent the college at campus functions, provide tours and speak about their experiences to potential students. This year's select 11 are from a variety of backgrounds, representing many program areas and hometowns, but they all have one thing in common. They all echo a common message of gratitude for the impact Piedmont Tech has had on their lives, both personally and academically.
Jennifer Adams came to Piedmont Tech after attending ITT Technical Institute. The Greenwood native completed her computer aided drafting courses with ITT Tech, and then enrolled in the engineering graphics technology program at PTC.
"I didn't learn as much there as I did here," Adams said. "The instructors at Piedmont Tech were more concerned with what I needed to learn rather than just giving the information."
Kim Ashley found inspiration to enroll at Piedmont Tech from her son, who was involved with the dual enrollment program at Emerald High School. The mother of five enrolled in the administrative office technology, medical coding program and will graduate in May, but she will be coming back in the fall. Following the death of her son, Ashley became interested in the funeral service program.
"I never dreamed, never had a desire to go to college," said Ashley. "But, I've been inspired. I want others to know that no matter how old you are, it's never too late."
Abbe Cannon proves that you are never too young, either. The Emerald High School senior began taking dual enrollment classes in the summer before her junior year and will graduate from Piedmont Tech with an Associate in Science degree mere weeks before she receives her high school diploma.
"When I graduate, I will have 62 college credit hours and enter Anderson University as a junior," Cannon said. "All the classes that are offered – regular, night and online classes – work so very well with any schedule."
Greenwood resident Lacodian Carter entered the work force immediately following high school with the birth of his son, but decided he needed a better education. He enrolled in the accounting program at Piedmont Tech and is on track to transfer to Lander University to seek his bachelor's degree and, eventually, become a CPA.
"I think Piedmont Tech is a wonderful school, the instructors are great," said Carter. "If you have a problem with anything, you can always go to the instructor."
Lindsay Daniels came to the radiologic technology program after considering a hospital-based program. The McCormick native plans to pursue her bachelor's degree with the hopes of returning to teach in the clinical classes at Piedmont Tech.
"I think I get more hands on here because the instructors hover over you because they want you to succeed," Daniels said. "I learn something every day and I don't think I would have gotten that with a larger hospital-based program."
Abbeville native Drew Jefferies enrolled in a larger college after high school in engineering, but found that neither the program area nor the large setting were for him. Looking for a program that involved his love of the outdoors, Jefferies enrolled in the building construction technology program.
"It was a good option for me," said Jefferies. "It's a lot less book-work and a lot more hands-on. That is perfect for someone like me."
Ngoni Mafemera's journey to Piedmont Tech was a long one. He came to Greenwood from Zimbabwe, looking for the means to a better life. He graduated with a degree in business studies in his home country, but the declining economy and desire for a better job brought him to the States. He enrolled in the general health science certificate program with plans to enter the nursing program.
"Initially, I wanted to go to a four-year college, but I found that it was very expensive," Mafemera said. "Piedmont Tech is a better value and it will be helpful to earn my ADN here and then pursue my BSN at Lander."
Sam Meakim tried his hand at everything from the Air Force to driving a tractor trailer before coming to Piedmont Tech. The New York native decided to make a change to his life when he came to Newberry and enrolled in the welding program.
"Piedmont Tech is an excellent place to start, regardless of the career you want to enter," said Meakim. "Piedmont Tech is going to give you an excellent education at an affordable price."
Wade Nicholson found himself in the position that many South Carolinians have faced after being laid off from his job in the textile industry. The Greenwood resident decided since there was little demand for someone with textile management experience, he would need to go into something that would be fulfilling and have a good, long-term economic future as well. He chose to enter the nursing program.
"It's been a humbling experience," Nicholson said. "My advice to anybody going into any health care profession – if you're not willing to have your life changed, don't even consider it because if it doesn't change your life, it's not for you."
Lexington native Kimberly Robertson took a winding road to Piedmont Tech after attending several other colleges. Not sure what she wanted to do in life, she went with the flow and tried many different programs before enrolling in the practical nursing program at Piedmont Tech.
"I think the theme the school has, 'We'll meet you where you are and take you to where you want to be' is honestly true," said Robertson. "I fought being a nurse because I come from a huge family of nurses. Finally one day, I gave in and decided it was the flow I needed to be in and I'm loving it."
Karen Tisdale came to Greenwood from Illinois where she had taken several college classes. Once in Greenwood, she decided to complete her degree. She enrolled in the general health science certificate program and will be entering the associate degree nursing program in the fall.
"Piedmont Tech is very family-friendly," Tisdale said. "It caters to all ages, the staff is wonderful and the different programs and student activities that are available make it a great place to start."
Photo Caption: Each year, Piedmont Technical College chooses some of the best and brightest to serve as Presidential Ambassadors. Pictured front from left, Susan Timmons, vice president for educational affairs and presidential ambassadors Wade Nicholson, Kimberly Robertson, Lindsay Daniels, Drew Jefferies, Lacodian Carter and advisor Carol Paguntalan. Back, Ngoni Mafemera, Jennifer Adams, Kim Ashley, Abbe Cannon, Karen Tisdale and Sam Meakim.