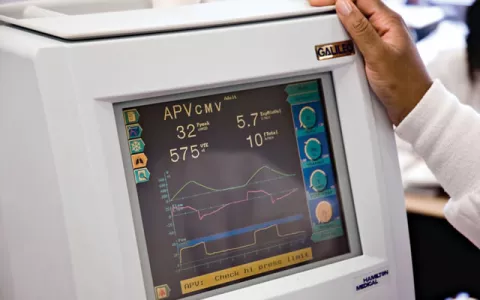 Program Spotlight: Respiratory Care
Holly Gosling, a second year respiratory student, saw just how important the field could be while working at a local hospital.
"I decided to enroll in respiratory when I worked in the Critical Intensive Care Unit. I was behind the scenes, behind the desk, and I would sit back and watch the nurses and RTs when people came back from heart surgery," she said.
Combined with a good salary and excellent career potential, respiratory therapy can be a good choice for someone interested in a health care career.
"The therapists were there for their patients at all times, even in a code situation. I chose this field to get hands on experience working directly with patients so I can make a difference in their lives."
Making a difference is a common theme for respiratory students.
Jessica Ford, a student from Honea Path, says "The part that I love about it is when you take a patient off the ventilator and they're getting to speak to their family for the first time. Being present at that moment can be an amazing experience."
Combined with a good salary and excellent career potential, respiratory therapy can be a good choice for someone interested in a health care career.
What does a Respiratory Therapist Do?
Respiratory therapists are experts in life support equipment, and work closely with doctors and other health care staff to treat heart and lung diseases like cardiac failure, asthma and more.
"As respiratory therapists, we work with physicians and nurses, and a lot of times, we all have to come together to create the best plan for the patient," says Ann Allen, program coordinator for PTC's Respiratory Care program.
"We're also part of the discharge planning team," she says. "We're right there with social services and the home health nurses trying to decide what's going to be the best plan of care for these patients when they go home."
Respiratory therapists can work in a wide variety of settings, from rehabilitation clinics and sleep labs to trauma centers and hospitals.
They provide temporary relief to patients with chronic problems, are part of the critical and intensive care teams, and can give emergency care as a part of surface and air transport teams or as part of rapid-response teams in the hospital.
Respiratory therapists provide treatment for all age groups—from infants to the elderly, and are involved in everything from rehabilitation to smoking-cessation, disease prevention, case management and the diagnosis of breathing disorders.
"We spend a lot of our time not just taking care of the patient, but also teaching them about their disease," Allen says. "It's a part of our responsibility to educate patients on their medications and how to return to a normal life."
Practical Experience from the Beginning
If you're interested in a career in respiratory therapy, PTC's Respiratory Care program provides the training and practical experience with regional hospitals and clinics that you'll need to get a solid start.
The program at PTC is a two year program that starts classes each fall. Students are in clinicals each semester and a special internship in the final semester.
In class, students get in-depth, hands-on training with ventilators, obtaining blood gasses, patient interaction and more. When students actually get into the hospital, they see that what they're learning in class is directly applicable in the real world.
"One of the great things about our program is that we get the students in clinicals the very first semester," says Allen.
After basic lab training, during the first half of the semester, students start working in the hospital about one day a week.
Recent PTC grads earn an entry level salary of about $38,000, with good potential for growth—up to around $60,000 in this region.
During that time, students begin to see patients, experience what it's like to see patients using oxygen, and see some of the procedures that they'll be learning the rest of the program.
The program coordinators work directly with health care providers all over the region to ensure that students get a wide range of clinical experience in hospitals of varying sizes, in home health care, and in other areas.
"The larger hospitals like Self and AnMed give students a lot of critical care experience, and a very fast-paced emergency room experience," said Karla Gilliam, PTC's director of clinical education and an instructor in the respiratory program.
Gilliam said that the smaller hospitals sometimes offer students a slower pace, but that the variety lets students make an informed decision about what kind of environment they want to work in.
"What's really kind of interesting is that a lot of our graduates are now department heads and supervisors in the same hospitals where they did their clinicals," Allen said.
Both Allen and Gilliam emphasize the program's family atmosphere.
"We're focused on our students' success at PTC, both in the classroom and professionally, and although the work is challenging, this is a supportive environment," said Gilliam.
A Personally Rewarding Career
Recent PTC grads earn an entry level salary of about $38,000, with good potential for growth—up to around $60,000 in this region.
According to the U.S. Bureau of Labor Statistics, employment for Respiratory Therapists is projected to increase faster than average through 2020, or about 28 percent nationally.
Respiratory therapists need at least an associate degree, although both associate and bachelor's degrees are common.
To become a respiratory therapist, there are several levels of required testing at the national level. PTC graduates are prepared to take both the entry-level and advanced National Board exams. Graduates are also certified in Advanced Cardiac Life Support, Pediatric Advanced Life Support, and Neonatal Resuscitation Provider, credentials that make them more marketable.
While graduates work primarily in the college's service region, PTC grads are working all over the state: in Charleston, Greenville, Columbia, and some in Charlotte.
Overall, Respiratory Care can be both personally and professionally rewarding, as Eddie Brown, a PTC grad who now mentors PTC clinical students in addition to his full-time respiratory therapy position, can attest.
"Once I graduated with my associate degree, I was actually already working at Newberry Hospital," he said.
"Now I work in the Cardiovascular ICU in Greenville. During my career, I've been on many codes and many life-saving teams. I really love my patients. I love respiratory, and I love what I do."
Learn More
Many Respiratory Therapists find the work both personally and professional rewarding, and get great satisfaction from their careers. To learn more about how to become a registered respiratory therapist, read more about Piedmont Technical College's Respiratory Care program online, or request information to receive information by mail.