PTC Business Instructor Finds Students around the World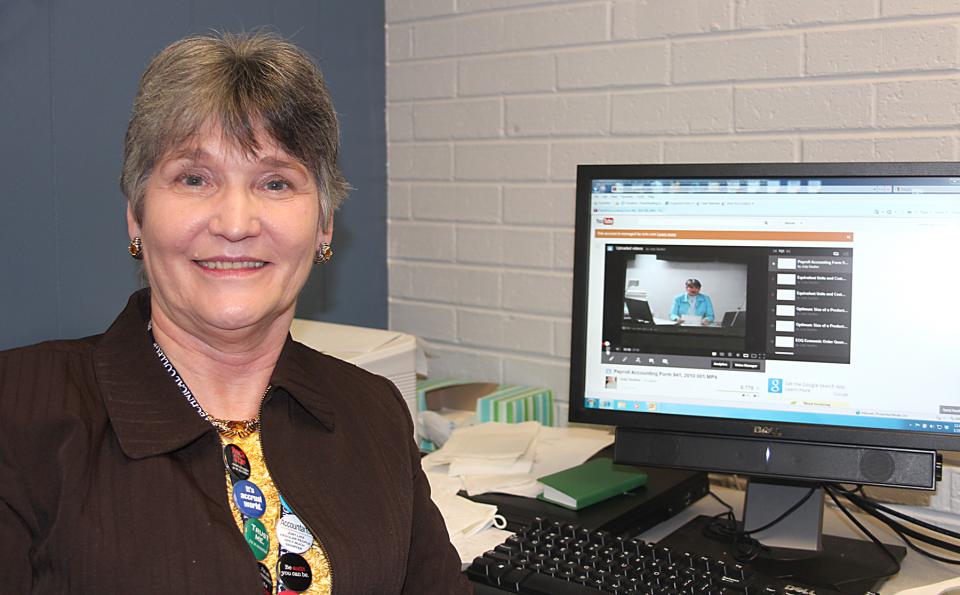 Judy Daulton has been in the business department of Piedmont Technical College for nearly 24 years. She teaches students from many different hometowns and backgrounds. When she started teaching accounting, she knew she would have students from the seven-county area like Greenwood and Newberry and even farther away like Columbia and Greenville. She never imagined she would have students from Ireland and the Philippines.
Daulton has created a YouTube sensation with her accounting videos. The project began in 2010 simply as a way to provide additional instruction to her students during an absence. She bought a flip camera with the intention of posting some instructional videos for her students to D2L, Piedmont Technical College's web-based platform for online learning. But after filming her clips, she found out that D2L would not support the video format of the flip camera. So Daulton decided to post the videos to an easily accessible location – YouTube.
"I didn't want to leave my students with nothing to do while I was gone," she said. "I wanted to leave them something they can look at." 
She created a channel and directed her students to the lessons they would need. And she had every intention of deleting the channel when she returned.
"When I got back, I had comments from students in other states and other countries," Daulton said. "I thought 'I put these up there for my students and I'm getting comments from students in Ireland, Australia and India.' It never occurred to me that other people would watch my videos."
Daulton's YouTube channel now hosts 18 different videos, 274 subscribers and nearly 140,000 views. She has received comments and thanks from across the country and around the world.
"Very helpful .... I finally understand it. Thank you so much. I have exam tomorrow. Love you for lovely help!!" posted one student from Pakistan.
"This helped me sooo much! You're great at explaining things... Thank you!!!" posted another student from Canada.
Daulton says she has students requesting specific topics and has even made friends on her Facebook page with some of the viewers who are looking for additional help.
"If there are students out there who can understand by watching my video, then I need to make more videos," Daulton said. "Some students, even my students, need instruction from a different angle and if they can get if from my videos on YouTube, then that's wonderful. I need to keep on so I can help people who want to be helped."