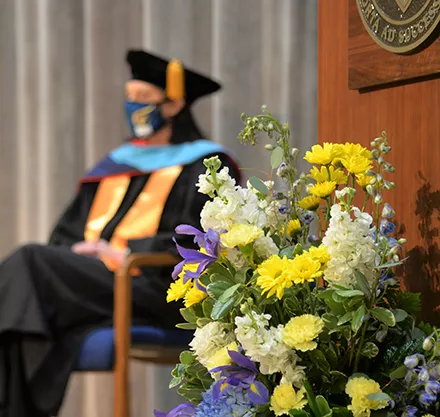 PTC to Conduct Fall Graduations on December 13
Piedmont Technical College (PTC) will hold two fall commencement exercises on Tuesday, Dec. 13, 2022, in Greenwood. 

An 11 a.m. ceremony will recognize graduates from our Associate in Arts, Associate in Science, and Healthcare programs. A 3 p.m. ceremony will recognize graduates from our Business, Information Technology, Commercial Art, Public Service, Engineering & Industrial Technology programs. Both commencements will take place in the James Medford Family Event Center on PTC's Lex Walters Campus-Greenwood.

Ms. Chrissie Latimore, a PTC alumna, chief of police for the Laurens Police Department, and nominee for U.S. Marshall for the District of South Carolina, will deliver the public leader keynote address. 

Chief Latimore has led the Laurens Police Department since 2018. From 1999 until 2013, she held numerous leadership positions with the Department. Earlier in her career, she also served as a special agent for the South Carolina Law Enforcement Division. She earned an A.S. in Public Service from PTC, a B.S. in Criminal Justice from Lander University, and a Master of Criminal Justice from Anderson University Command College.

The student speaker for the 11 a.m. ceremony will be Madalyn Harris, who is receiving an associate degree in cardiovascular technology/adult echocardiography concentration. After undergoing cardiac surgery in middle school, Harris developed an interest in the heart and knew the CVT Program would be a good fit for her.

The student speaker for the 3 p.m. ceremony will be Thomas Thompson, who is receiving an associate in applied science degree with a major in human services, a field he selected after the passing of his eldest child to addiction. Already retired, the disabled father of four wanted to educate himself in areas where he could make a difference for his late son. He has served as a guardian ad litem for the past year. 

The public should be advised that PTC takes security measures for all graduation ceremonies. Guests are encouraged to leave unnecessary items in vehicles. Umbrellas and balloons will NOT be allowed into the event. Any bags carried into the Medford Center must be made of clear plastic. 

This is a ticketed event. Each individual ticketholder, including children, will be entitled to one seat only. The Emerald City Brass will provide musical entertainment.