PTC Funeral Service Grad Recruited for Coveted Position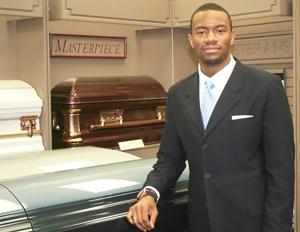 Darren Jones is on his way to fulfilling a dream that began as a sixth grade student researching career options. The Greenwood native has been recruited to work as the operations manager for Terry Funeral Home in Philadelphia.
Jones graduated from Piedmont Technical College in August 2010 with his associate degree in funeral service education. He knew from a young age that it was what he wanted to do.
"Being an embalmer or a funeral director, if you take it seriously, is somewhat of a calling," Jones said. "You know early on if you're going to do something like that."
Jones graduated from Morehouse College in Atlanta with a bachelor's degree in business administration and planned to attend Gupton-Jones College of Funeral Service in Decatur, Ga. because it was near Atlanta. Then he realized there was an option in South Carolina.
"Once I thought about, I thought we have a funeral service program in South Carolina, the only one in South Carolina, in my home town," he said. "I'll just go back home for a while."
Jones said it was the best decision he ever made.
His journey to Philadelphia continued as he enrolled in the funeral service education program at Piedmont Technical College. With a desire to eventually open his own funeral home, Jones began talking to other funeral home owners and directors as he was completing his final semester. That's when Dedrick Gantt, a funeral service instructor, put him in contact with Al Wiley, owner of Wiley Funeral Home in Baltimore, Md. In July, Jones traveled to Baltimore to meet with Wiley and tour his new facility. He found the trip helpful and informative for what to expect.
But his journey had just begun.
Jones attended the National Funeral Directors and Morticians Convention in August in Ft. Lauderdale, Fl. That's where he met Greg Burrell.
"I met Mr. Burrell, who is the vice president of the national convention. He will be assuming the presidency in August 2011 and is looking for an operations manager for his funeral home because he will be out a lot of the time," Jones said. "He and Mr. Wiley are good friends and Mr. Wiley recommended me."
Jones said he knows there will be many challenges with the move to a large city. But he feels that he is well-prepared to face those challenges, thanks to the instruction he received while at Piedmont Tech.
"This has been an excellent program and Dedrick and David (Martin) have prepared me for what is to come," he said. "This is no nine to five job. But, I'm ready."