PTC Graduates First EMT Certificate Class in Laurens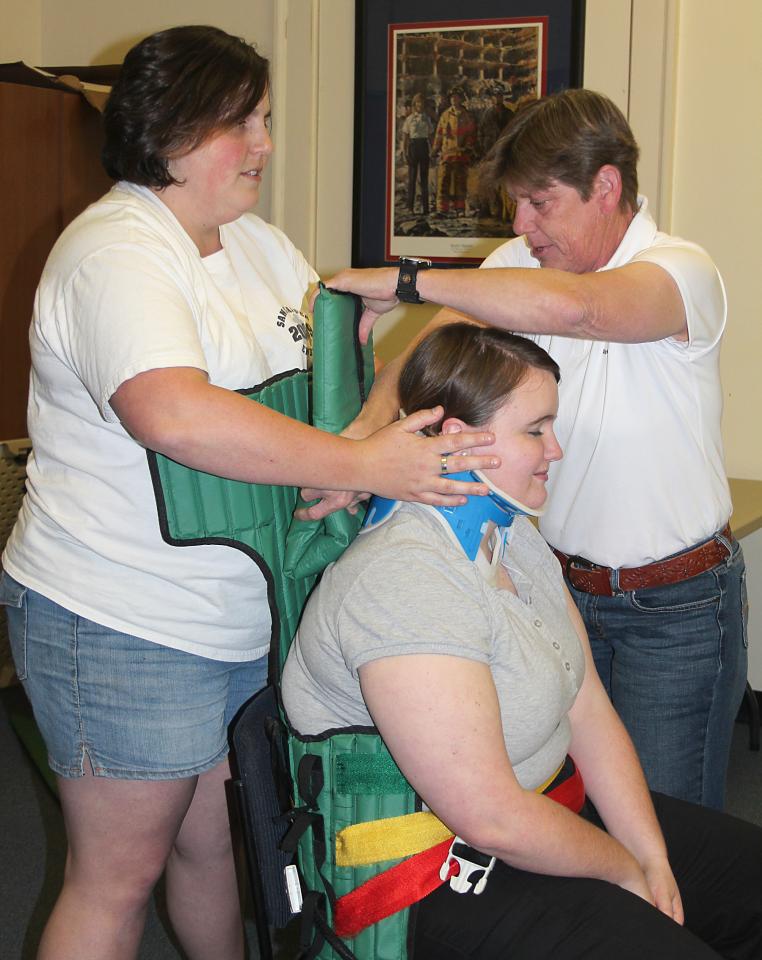 Piedmont Technical College and the Laurens County EMS recently celebrated the graduation of its first class of emergency medical technicians (EMTs) from their partnership in Laurens.
"We had a very diverse group and it's been a really good class," said Malcolm Woodard, instructor and paramedic with Laurens County EMS. "Because the Laurens County EMS partnered with Piedmont Tech, the EMS system took these students under their wings and provided extra guidance in the field."
The seven graduates ranged from CNAs and firefighters to a Clinton Public Safety officer and a student looking for a change of career. The overall feeling from all of the students was that the course was exciting and challenging.
Theresa Turner from Newberry is a graduate of the patient care technician program at Piedmont Tech. She enrolled in the EMT program to continue the path toward her chosen career – becoming a flight medic.
"My mom had MS and I grew up helping her, so I've always wanted to help people. I started with my CNA, but I wanted to do more," Turner said. "To be a flight medic, you have to be a paramedic. This was the logical place to start."
Catherine Anderson, a sergeant with Clinton Public Safety, entered the program to add a new dimension to her job.
"Police are usually the first responders to many incidents," Anderson said. "I can take care of victims there, get them out to the paramedics and hopefully help prevent loss of life."
Anderson said the skills she has obtained will help improve the assistance she can provide to the community.
"With what I now know, I can actually work with another part of the community service, work with the paramedics and help them in their service," she said. "It will help cross the bridges."
The course is hard and takes commitment, Anderson said, but she believes the benefits are worth the work.
"You have to really want to do it," Anderson said. "You're going to see stuff you don't want to see, but your aim has to be there to keep loss of life from happening."
The next EMT course will begin in fall. For more information, contact Deborah Hoffman at (864) 941-8426 or at hoffman.d@ptc.edu. 
Photo Caption: Piedmont Technical College and Laurens County Emergency Medical Services recently celebrated the graduation of its first class of emergency medical technicians (EMTs). Pictured during the class, Theresa Turner, left, and Catherine Anderson, right, work to secure Breanna Adams in a simulated accident situation.