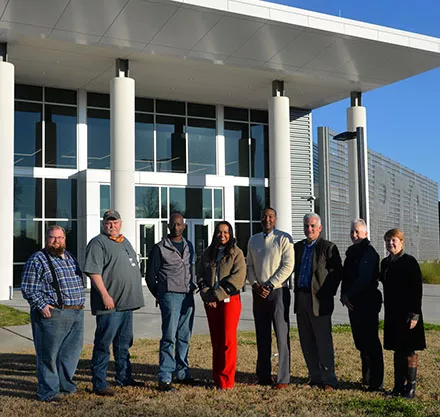 PTC Innovation Team of the Year Redefines Creative Collaboration
The Piedmont Technical College (PTC) Area Commission presented the college's 2022 Innovation Team of the Year Award to the PTC Economic Development Team at a meeting earlier this year. Members of the team include: President Dr. Hope E. Rivers, Dean of Engineering and Industrial Technology Dr. Alvie Coes III, Associate Vice President for Economic Development and Continuing Education Rusty Denning, readySC™ Area Director Susan Heath, Mechatronics Technology Program Director Sam George, Machine Tool Technology Program Director Phillip Calhoun, Welding Program Director Jim Ladd, and Training Coordinator Trish Buis. 

"This team has shown the utmost commitment to economic growth and collaboration in our seven-county service area," Commission Chair Richard Cain said. "They have a vision, develop strategies, and continue to follow through with innovative projects that benefit our students, businesses, and communities. In way of thanks, the Commission is pleased to bestow this well-deserved recognition."

When business and industry members of PTC's multiple program advisory boards talk, the college listens, takes meticulous notes, and ultimately takes responsive action in partnership with its community. From that dialogue comes years of strategic planning not only to address workforce concerns but to build incentives for new investment in the region. PTC is a powerful resource in attracting new business investment. Its continually updated curriculum programs are offered to accommodate the most up-to-date industry workforce needs. The 2021 opening of the William H. "Billy" O'Dell Upstate Center for Advanced Manufacturing Excellence in Greenwood is a recent example of that responsiveness. 

When the O'Dell Center was still an idea, all stakeholders understood it would be an ambitious — and expensive — undertaking that required innovative funding strategies, mechanisms, and diversified investments. Spearheaded by the PTC Economic Development Team, the completed O'Dell Center is the culmination of years-long collaborations with state, county and federal governments, as well as support from the forward-thinking Greenwood taxpayers who passed a Capital Project Sales Tax ballot measure to help fund it. 

The showplace O'Dell Center features 45,000 square feet of state-of-the-art classrooms, laboratories, flexible training space, and the college's core industrial programs. In addition, the facility offers adaptable training space for manufacturers' use in preparing new employees or upskilling existing employees. 

"The state-of-the-art facility has hosted numerous tours for visiting prospects, all of whom are most impressed with offerings in mechatronics, welding, machine tool/CNC, and customizable programs to meet their needs," James Bateman, economic development director for Greenwood County, said in a letter supporting recognition for the Team. "The partnership between PTC and readySC™ that can utilize flexible laboratory space at the O'Dell Center for new industries' workforce training is an advantage that differentiates Greenwood County from other communities competing for economic development projects." 

PTC's expanding capacity to train people for advanced manufacturing jobs is an important factor in Teijin Carbon Fiber's decision to locate in Greenwood. The college also works with readySC™ to create custom training programs for local manufacturers opening new facilities or expanding existing sites. 

The successful recruitment of Teijin to Greenwood reinforced PTC's vital role in the region's economic development efforts. In fact, the O'Dell Center and the PTC Center for Advanced Manufacturing in neighboring Laurens County, are regular tour stops for prospective industries that are in the process of site selection. 

The college's ongoing, tactical investments in new technologies and capital improvements have strengthened its corporate partnerships and, accordingly, expanded apprenticeship opportunities available to students. One example is Lonza, a global supply chain manufacturer serving the pharmaceutical, biotechnology, and nutrition industries, which operates a manufacturing facility in Greenwood.

Lonza recently partnered with PTC and Apprenticeship Carolina™ to address its ongoing need for maintenance technicians. With newly registered apprenticeships, the company has created a structured training program for critically important roles in maintenance, electronics, and a hybrid of mechanical and electrical disciplines. The apprenticeships not only fill Lonza's immediate workforce needs but also helps ensure that existing Lonza employees receive the training and experience necessary to succeed and grow in their roles with the company.

In addition, Lonza and PTC have forged a strategic partnership to recruit employees from the college's Mechatronics Technology Program. Lonza has created an innovative work-based learning program that allows mechatronics students to take advantage of convenient six-hour shifts at the company while pursuing their studies at PTC. To date, 13 PTC students have participated in this model program.

PTC's Career Coordinator position was created in partnership with The Greenwood Promise. That individual, Trae Cary, works alongside the Promise executive director to ensure Promise-eligible students have the opportunity to participate in work-based learning and to ensure that students are connected with employment opportunities after graduation.

Business growth and success often generates a pass-along, beneficial effect, and that is the case with PTC apprenticeships. PTC partners with many key industry leaders on apprenticeship programs, including Stoll Industries in Abbeville County, Diana Pet Food, and Ascend Performance Materials in Greenwood County. The success of these programs stimulates interest among other potential apprenticeship partners, and the growth chain is continued.

Would you like to work for an organization that truly values you? To view PTC job opportunities, go to www.ptc.edu/jobs.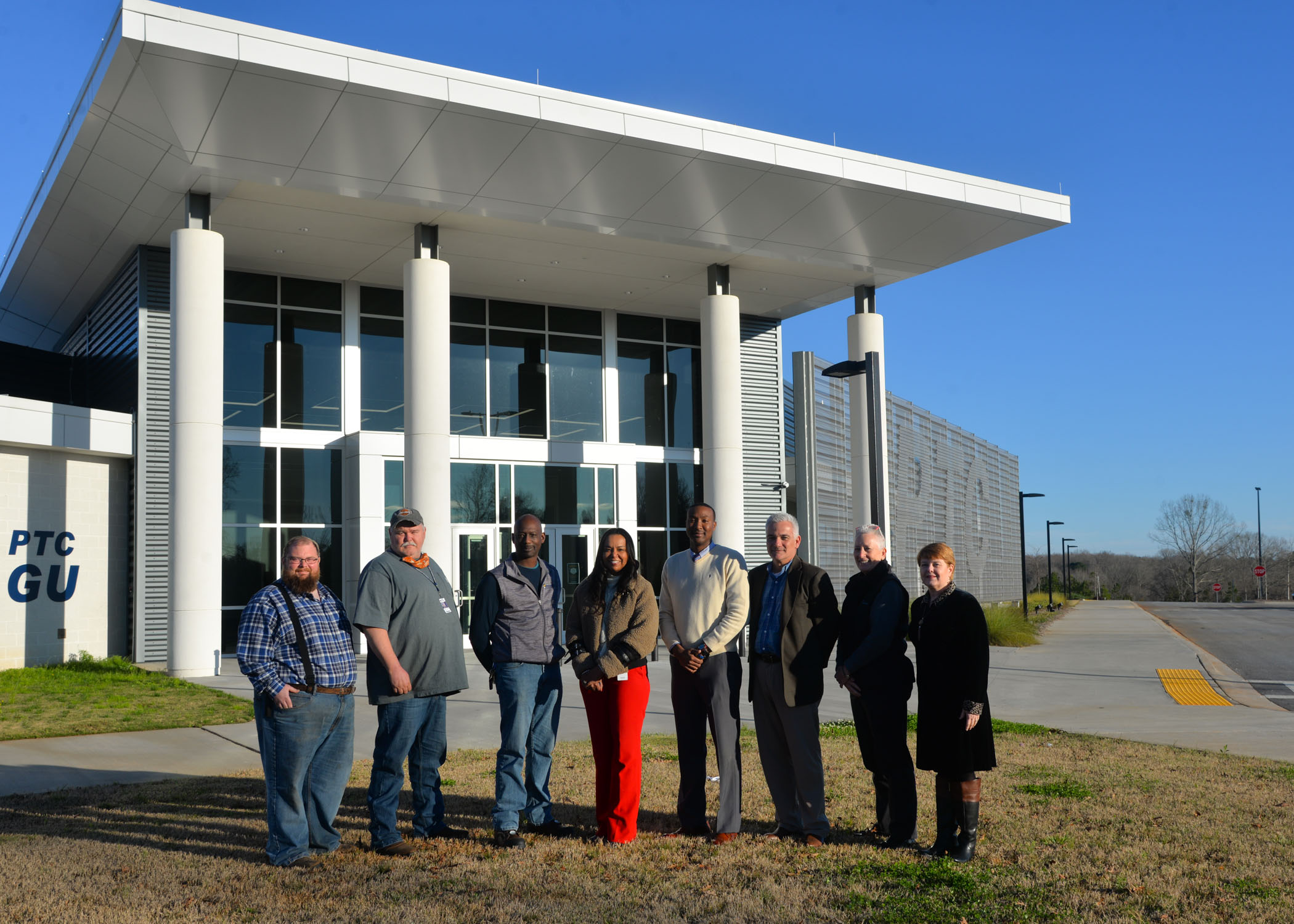 PHOTO:  PTC's Economic Development Team, from left:  Mechatronics Program Director/Instructor Sam George; Welding Program Director/Instructor Jim Ladd; Machine Tool Program Director/Instructor Phillip Calhoun; President Dr. Hope E. Rivers; Engineering and Industrial Technology Dean Dr. Alvie Coes; Associate Vice President Rusty Denning; readySC™ Area Director Susan Heath; and Continuing Education Training Coordinator Trish Buis.