PTC Names Tara Gonce Innovator of the Year
March 28, 2019
Tara Gonce understands her students; she was one herself, having graduated from Piedmont Technical College (PTC) many years ago with an associate degree in nursing. Like her students on their clinicals, she literally has walked in their hospital-white clogs. Gonce went on to earn her bachelor's and master's degrees and today serves as PTC's dean of health care. Because of her calm, creative problem-solving leadership, the PTC Area Commission has named Gonce its Innovator of the Year for 2019.
"As the nursing program continued to grow, Tara realized that combining academic courses common to both the Associate Degree Nursing (ADN) program and the Practical Nursing (PN) program in larger classes seemed fiscally practical but was not intuitively beneficial for students," explained Dr. Jack Bagwell, PTC vice president for academic affairs. "So in 2012, she separated the ADN and PN courses to support smaller class size, more one-on-one instruction and to better prepare students for rigorous licensing exams. Where it makes sense, the two tracks meet together for common curriculum programs."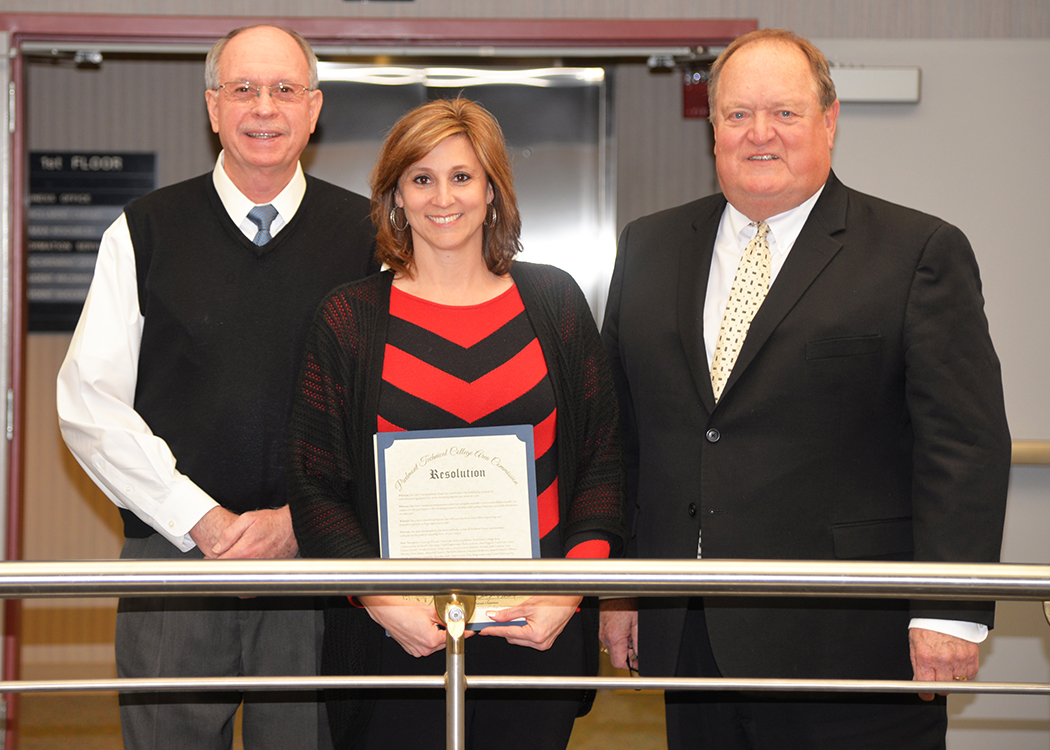 Gonce's innovative decision brought big results. Within a year, her ADN graduates achieved a 100 percent pass rate for the National Council Licensure Examination (NCLEX). One. Hundred. Percent.
The high-achieving dean did not rest on her laurels. In 2014, she was part of a team that secured an invaluable ADN-to-BSN articulation agreement with Lander University. Under the seamless transfer accord, students admitted to PTC's ADN program and meeting minimum requirements can receive a guaranteed seat in Lander's online program. The agreement also provides a greater degree of flexibility for students who wish to enroll in the RN-to-BSN program.
"Tara had yet another innovative idea when she created the Junior Nursing Club (JNC) in early 2018. The first club, with about a dozen members, was formed at Ninety Six Elementary School in Greenwood County," Bagwell said. "She envisions following this group of fifth graders through their middle and high school journeys."
So far, Wesley Commons, a licensed nursing facility in Greenwood, is providing funds to follow the inaugural class from Ninety Six into their first year of middle school. Gonce is in talks with Self Regional Healthcare on possibly starting a second cohort this year and follow those students year-to-year as well."
Also in 2018, the Self Regional Healthcare Foundation donated $170,000 to the Nursing Department at PTC to help bolster the region's nursing workforce. The funds are being used to help support the nursing curriculum and to address the immediate need for additional faculty to serve students majoring in the college's nursing programs. That fall, PTC presented Gonce with its Presidential Medallion, the college's most prestigious award recognizing individuals who have made significant contributions toward excellence in education.
"Tara's consistent leadership is making an enormous statement at Piedmont Tech and in higher education," PTC President Dr. Ray Brooks said. "Her untiring efforts have piqued interest in health care careers and helped accommodate those who choose to pursue them."
PHOTO CUTLINE
PTC Area Commissioners on March 19 presented Tara Gonce with the 2019 Innovator of the Year Award. Pictured from left, PTC Area Commission Vice Chair Richard Cain, Tara Gonce, and PTC President Ray Brooks.