PTC partnership with readySC and ZF wins award.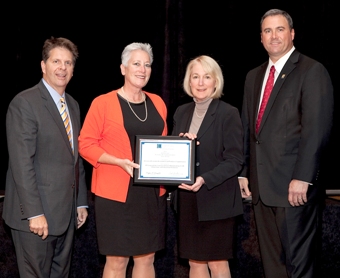 The South Carolina Technical College System recently won an International Economic Development Council (IEDC) Excellence in Economic Development Award for its work with ZF Transmissions and Piedmont Technical College's Center for Advanced Manufacturing (CAM) in Laurens County.
The honor was presented during the IEDC's annual awards ceremony in Philadelphia where South Carolina was recognized for its innovative work to meet the training needs of ZF Transmissions, one of the world's top 10 automotive suppliers.
"We are pleased that the IEDC recognized the SC Technical College System for its work in the startup of the ZF Transmissions Group in Laurens County," said Susan Pretulak, vice president of economic development and workforce competitiveness for the SC Technical College System. "The core of our commitment to our partner companies here in SC is to bring every resource and partner to the table to ensure a skilled workforce from start-up through the entire business life of the company."
readySC™ quickly engaged with ZF after the company announced plans to begin production of eight and nine-speed automatic transmissions at its new Laurens facility in 2011, with plans to hire over 1,200 employees in just the startup phase. readySC™, Apprenticeship Carolina™, and Piedmont Technical College representatives flew to Germany where they met with ZF officials to understand fully the project's hiring plans and training requirements. 
It quickly became evident that an excellent workforce training and development plan would require a large-scale collaborative effort. Thus, planning discussions between Piedmont Technical College, the PTC Foundation, the Laurens County Development Corporation, Laurens County, readySC™ and the county's business community began to take place. 
Equipment was needed for hands-on technical training and sizable space was needed for that equipment. Instead of establishing a temporary plan, the partnership effectively implemented a long-term solution. These planning conversations led to the development of the CAM. 
"The PTC Center for Advanced Manufacturing, and the level of training we've been able to provide in Laurens County through the new facility, came from the collaborative vision of many partners, "said  Susan Heath, area director of readySC™. "They saw a need and provided a conduit to transform the lives of Laurens County citizens."
The CAM houses CNC labs, CMM labs and classrooms which will benefit ZF as well as other industries and the residents of Laurens County for years to come. The CAM partnership met the needs of ZF while providing the local workforce with a means for upgrading their work skills with relevant technology-based training.
Since opening its doors in May 2012, the CAM has served over 5000 students. CAM Phase Two, which is slated for completion in spring 2014, is designed to help Laurens County further develop a skilled workforce for in-demand advanced manufacturing jobs. 
IEDC's Excellence in Economic Development Awards recognize the world's best economic development programs and partnerships, marketing materials and the year's most influential leaders. These 35 awards honor organizations and individuals for their efforts in creating positive change in urban, suburban and rural communities.
The IEDC is the world's largest independent non-profit membership and research organization devoted exclusively to the field of economic development.