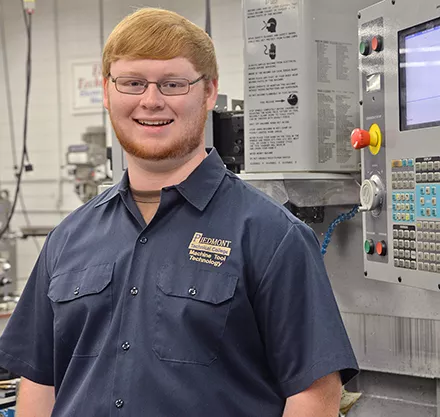 PTC Student Completes Machine Tool Program and High School Simultaneously
Caleb Boatwright looks like your typical teenager. He's a soft-spoken guy who has the typical friends that he hangs out with each day. He will graduate in the spring from Greenwood High School. He doesn't seem to be extraordinary.
Until you realize he will also be a 2017 graduate of Piedmont Technical College.
Boatwright was on track to complete his high school education in his junior year of high school. But he looked to the future and decided to stay and get a jump start on his college education by enrolling in dual enrollment classes at Piedmont Tech.
"I wanted to come out to Piedmont Tech and get my hands in a field while taking high school classes," Boatwright said.
Boatwright likes working with his hands and took some automotive classes at the G. Frank Russell Career Center. His cousin had taken machine tool classes as a student at the Career Center, and those classes interested Boatwright more than the automotive. Since the machine tool program was no longer offered at the Career Center, he looked to Piedmont Tech.
"My friends thought I was crazy, that I should focus on my high school," he said. "I was focused on my high school, but I was also getting high school and college credit."
Boatwright will complete his diploma in machine tool technology in May. To accomplish that, he had to take a few classes over the summer. But, he didn't see it as a sacrifice.
"I knew it was either have a free summer then, or take all my classes and be able to pursue a career the next summer," Boatwright said. "I knew I could get my diploma in May 2017 if I took those classes."
And he's not finished. He will continue in the summer to pursue his associate degree. He plans to major in either mechatronics or mechanical engineering technology.
Even before he completes his diploma, the hard work has already paid off. Recently, Boatwright was hired by Precision Plus. The company was very impressed with his hard work.
"I helped him clean up his resume and then submitted his application online," said Don Lytch, machine tool technology instructor. "About 10 minutes after we submitted his application, they called him in for an interview."
"I like working with my hands, and I love the challenges of using your mind to solve problems," said Boatwright. "With machine tool, you don't have to follow strict rules to get results. You give a blueprint to five different machinists and they'll do it five different ways."