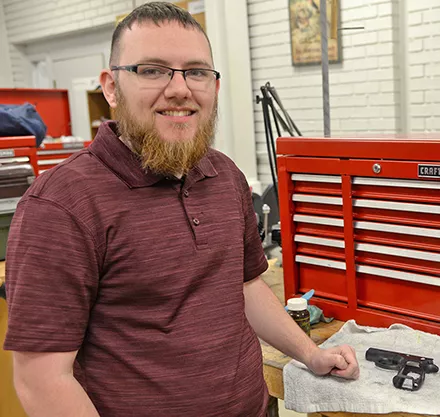 PTC Student Receives Gunsmithing Scholarship
Piedmont Technical College gunsmithing student Dakota Potts has been awarded $3000 from The American Pistolsmiths Guild. The scholarship is designed to help top notch gunsmithing students financially and professionally. The scholarship provides an initial $1,500 plus another $1,500 from Brownells, a leading source for gun parts and accessories, ammunition, gunsmithing tools and survival gear. The scholarship is available to students in the final half of their course of study and in the top 10 percent of their class.
The Florida native came from St. Augustine to Greenwood specifically for the gunsmithing program. He is on track to graduate in August with an associate degree in general technology with a gunsmithing concentration.
"This is a guild that is dedicated to craftsmanship and quality work in a specialized area of firearms," Potts said. "Coming to Greenwood, this scholarship has been very helpful."
The scholarship is a cash award with "no strings attached." The student scholar can spend the money on anything he chooses including fuel for his car, rent, gunsmith tools, groceries or anything else important for supporting his training. Potts says this has been beneficial for him.
"They give you the leeway to do with it what you need so that you can get the most out of your education without worrying about expenses," he said. "I've been able to use it for tools and tuition."
 Only five scholarships are awarded each year to students in one of the eight nationally recognized gunsmith programs.
"A lot of gunsmiths today are self-taught," Potts said. "At Piedmont Technical College, I've had access to a lot of things I would never have been able to learn on my own."