PTC Students Travel to State House for LTA Rally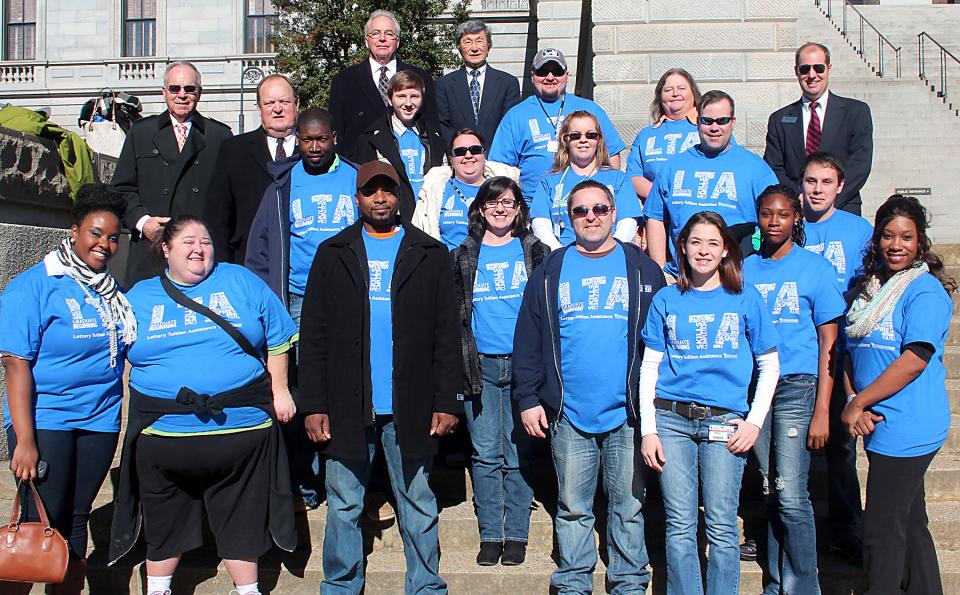 A group of students and staff from Piedmont Technical College joined more than 300 SC Technical College System students at the State House recently to show their support for the Lottery Tuition Assistance (LTA) program. Speakers included Dr. Darrel W. Staat, System president; Sen. Vincent Sheheen, D-Kershaw, member of Senate Education Committee; Rep. Phil Owens, R-Pickens, chair, Education and Public Works Committee; and Teresa Thompson-Isley, an LTA recipient and student at York Technical College.
More than 300 LTA recipients from the System's 16 technical colleges marched to the State House, wearing shirts proclaiming "Thank you for LTA." One-third of all technical college students in South Carolina receive LTA funds. Nearly 40,000 students statewide receive Lottery Tuition Assistance, which amounts to about $900 per semester for those enrolled full time. Over 70 percent of the students attending Piedmont Tech receive LTA.
"Students, keep doing what you're doing," said Sheheen. "You are the success of South Carolina. You are what will make us proud."
"Since 2002, nearly 400,000 LTA awards have been made," said Staat in addressing the crowd of students. "That's 400,000 opportunities awarded to students just like you who wanted to enhance their skills, who wanted to learn new skills and students who wanted to go on to further their education. "
"The combination of our technical college system and the lottery tuition fund affords each of you the opportunity to seek the kind of education and training you need to succeed in the job market," said Owens. "For those of you who are seeking a baccalaureate degree, technical colleges provide you with the option of earning two years of college at a significantly reduced rate and then transferring to a four year university."
Piedmont Tech students were excited by the positive response from the legislators.
"Being able to take On-Deck classes and not have to pay for them because of LTA, I figuratively hit the jackpot" said Jacob Mullikin, an Associate of Science student from Gray Court.
"I always wanted to go back sooner, but didn't think I would be able to financially," said Jesse Mullikin, a criminal justice student from Clinton. "Because LTA funding allowed my brother to take classes at Piedmont Tech, I was encouraged to enroll as well."
The Lottery Tuition Assistance program was created by the General Assembly in 2002 for public two-year institutions. Unlike merit-based lottery-funded aid, award amounts are not guaranteed from semester to semester, and fluctuate based on lottery collections and student demand.
For more information, go to www.sctechsystem.edu.
Photo Caption: Students and staff from Piedmont Technical College joined hundreds of SC Technical College System students gathered at the State House recently to show their support for the Lottery Tuition Assistance (LTA) program. Attending the rally were, front, Jaleesa Holloway, Greenwood; Casandra Laster, Newberry; Edward Evans, Gray Court; Jacqulyne Myers, Batesburg; Todd Raugh, Greenwood; Windy Bolt, Greenwood; Latoya Scott, Greenwood; and Brianna Williams, Hodges. Second, Rodrigues Ford, Abbeville; Tara Lindley, Clinton; Kelly Erickson, Greenwood; Cory Nickles, Greenwood; and Richard Imhof, Abbeville. Back, William Whitfield, PTC Area Commission chairman; Dr. Ray Brooks, PTC president; George Piersol, Area Commissioner; Jacob Mullikin, Gray Court; Y. J. Ahn, Area Commissioner; Jesse Mullikin, Clinton; Judy Mullikin, Gray Court; and David Rosenbaum, associate dean of students.