PTC Welcomes Students for Annual Job Shadowing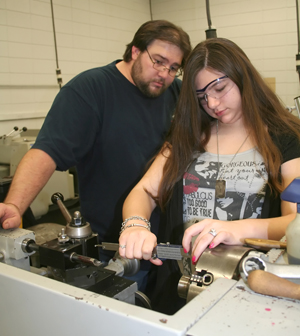 What do you want to be when you grow up?
That is a question often asked of students. For the month of February, middle and high school students will have the opportunity to explore their options.
Piedmont Technical College is one of several businesses participating in Job Shadow 2011, an initiative dedicated to engaging students in the world of work by demonstrating the connection between academics and careers.
Job shadowing helps students determine early on which career choices are a good match for their personalities, strengths and interests. Today's students want – and need – to experience a career option first hand as they plan for high school courses and post-secondary education.
"The program builds community partnerships between schools and businesses that enhance the educational experience of all students. It also introduces students to the requirements of professions and industries to help them prepare to join the work force," said Linda Sheffield, regional career specialist.
In 2010, nearly 1600 businesses in Piedmont Tech's seven-county area hosted almost 2500 students.
Students shadow an adult by spending the day with him/her on their job, observing and participating in the normal everyday activities. Students can observe not only job characteristics and responsibilities, but also what each profession requires on a day-to-day basis. Students learn first-hand what it takes to make it in their fields of interest from the people who know best.
Piedmont Tech has hosted students from Brewer, Northside and Westview Middle Schools in Greenwood, Edgewood Middle School in Ninety Six and Ware Shoals Elementary as well as Greenwood High School in such areas as nursing, automotive technology, machine tool technology and business. Other schools will be participating throughout the month.
"I thought this would be something interesting to see," said Alexis Kirby, an eighth grader from Brewer who shadowed her father, David, in the machine tool technology program at PTC. "It's very cool, especially the precise measurements needed."
Alexis, who wants to go into fashion, compared the measurements necessary with machine tooling to the measurements in creating a fashion design.
"I didn't think she would want to do it," said David. "But, it's been very exciting."
The job shadow program began in 1996 with the first local Job Shadow Day in Boston. In 1997, the National Job Shadow Coalition was formed to encourage participation in a shadowing initiative across the United States. This eventually evolved into Groundhog Shadow Day on February 2. In 2008, the program became a month-long event rather than just one day.
For more information about Job Shadow 2011, contact Sheffield at (864) 941-8431 or go to www.jobshadow.org.
Photo Caption: Piedmont Technical College is one of several businesses participating in Job Shadow 2011 during the month of February. Pictured, Alexis Kirby, a student from Brewer Middle School, right, takes a measurement in the machine tool lab with her father, David, a MTT student from Greenwood.