PTC's Cobra Drawing Finalists Named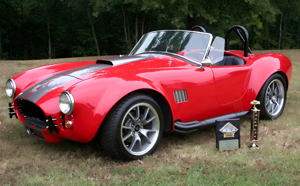 The Piedmont Technical College Foundation held its drawing for the 10 finalists for the 1965 student-built Cobra Replica Monday.
The 10 finalists are Sandra Johnson, Marla Dixon, Thomas A. Woodruff, Cecilia Ramos, Jessicka Bernabe, Thomas Edwards, Pablo Mejia, Bryan Padron, Sam Riley and W. Marcus Cook. The winner of the Cobra will be selected from these 10 finalists through a reverse drawing at the Piedmont Technical College employee Christmas luncheon on Dec. 15.
Jody Hazel and Rhonda Cox, CPAs with Greene and Company, officially verified that all sold tickets were loaded into the cage. Cox drew the finalists from a pool of 432 tickets.
The second Cobra Project was a joint effort between the first year and second year students in Piedmont Tech's automotive technology class. The top 20 percent of those students were chosen to work on the prized creation.
The '79 Lamborghini-red version has twin roll bars, a different rear-end and a different composition on the engine. Between the driver and the passenger seats is an embroidered coiled cobra that warns drivers of the speed and power that the Cobra possesses.