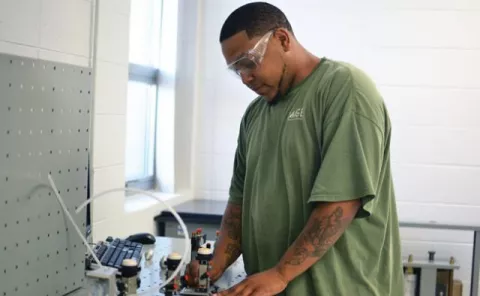 Sage Automotive Interiors: Growing a Workforce from Within with Apprenticeships
Absolutely, says Lee Matthews, plant manager for Sage Automotive Interiors' Abbeville and Sharon plants. Made aware of the program – which is administered in this region through Piedmont Technical College – less than a year ago, Matthews quickly caught on to the notion of providing his company with an additional pool of qualified engineering associate managers and also providing existing employees opportunities to advance their skills and careers.
"The Apprenticeship Carolina program is a great fit for us," Matthews said. "When I attended a meeting at Piedmont Tech to learn more about it, I realized it would be good not only for our company but also for our employees, so we set up an approved curriculum and we're ready to go."
Sage's Apprenticeship program began this spring. Participating employees will earn associate degrees in mechatronics from Piedmont Tech at no cost to themselves.
"It really works for everyone," said Matthews. "We increase our pool of process engineers who will be ready to move forward into management. Our employees get to continue working while earning a degree."
"In the end, we want the best people to work for us and we believe this program will help us achieve that goal."
While the two employees are in school, they will focus on projects that will immediately pay dividends in the workplace.
"The curriculum is being tailored so that what they learn will be applicable to what they're doing in the plant," Matthews said.
As a textile manufacturer that provides materials for the automotive industry, Sage Automotive Interiors is uniquely part of the state's industrial heritage and its future – especially the latter when it comes to investing in employees.
"Our governor continues to promote South Carolina as an up-and-coming manufacturing state," said Matthews, "so, I'm really excited about the possibilities this program will provide."
With South Carolina pouring so many resources into advancing the skills of its workforce, companies like Sage Automotive are in a perfect position to be competitive for many years to come.
"The only real cost to us is time," he said. "It's our choice to continue to pay our employees while they're participating in the program. In the end, we want the best people to work for us and we believe this program will help us achieve that goal."
The Perfect Training Solution
As South Carolina works to grow its skilled workforce, enhance its competitiveness and increase the employability of its citizens, Apprenticeship Carolina is a program ideally aligned with these goals — it very well could be that perfect solution. 
Apprenticeship Carolina is one of the fastest growing apprenticeship systems in the country and is garnering numerous national accolades and recognitions.  
Since its beginnings in 2007, Apprenticeship Carolina has played a key role in growing apprenticeship participation from just 90 companies to now more than 600. The number of apprentices has grown exponentially with nearly 7,200 apprentices across the state.  In 2007, only 22 South Carolina counties had registered programs, now all 46 counties are represented with at least one registered program.
Apprenticeship Carolina proactively reaches out to nontraditional sectors such as health care, finance, hospitality and tourism, information technology and advanced manufacturing with the message that apprenticeship has evolved. It is no longer limited to just traditional occupations.
Apprenticeship Carolina's innovative approach has not gone unnoticed. 
The U.S. Department of Labor recently honored Apprenticeship Carolina with a 21st Century Innovators and Trailblazers Award. This award recognizes programs for their long-standing success and innovative approaches to training U.S. workers.
A commitment to building South Carolina's talent lies at the heart of Apprenticeship Carolina's growth. 
"As we introduce the benefits of registered apprenticeship, companies see the value in it – higher skills, decreased turnover, consistent training and a reliable plan for transferring knowledge from an aging, experienced workforce to the next generation of talented employees," said Brad Neese, director of Apprenticeship Carolina.  "We walk companies through the process.  We make it very easy – painless, in fact."
In addition, eligible businesses can receive a South Carolina tax credit of $1,000 per apprentice per year for up to four years.
Learn More
More companies in our region are taking advantage of apprenticeships each year to ensure their workforce is well qualified and performing at a high level. To learn more about setting up an apprenticeship program,
contact PTC's Continuing Education office
today.