Scholarship Expansions Allow More to Attend PTC Tuition-Free
The daughter of a career law enforcement official from Edgefield County, Kylie Wash learned early on the value of a strong work ethic. The 20-year-old radiologic technology major and Piedmont Technical College (PTC) Presidential Ambassador aspires to live by her father's example.
"My father devoted 24 years to the Edgefield County Sheriff's Office and to the people of Edgefield County," she said. "He has always put others before himself. … He has taught me so much about life and has told me forever to always work hard even if nobody notices because your actions can speak louder than words."
Actions, it seems, really do speak louder. The SC Technical College System (SCTCS) recently took action to double the award for the SC Workforce and Industrial Needs Scholarship (SC WINS) and increase the allowable award for the Lottery Tuition Assistance (LTA).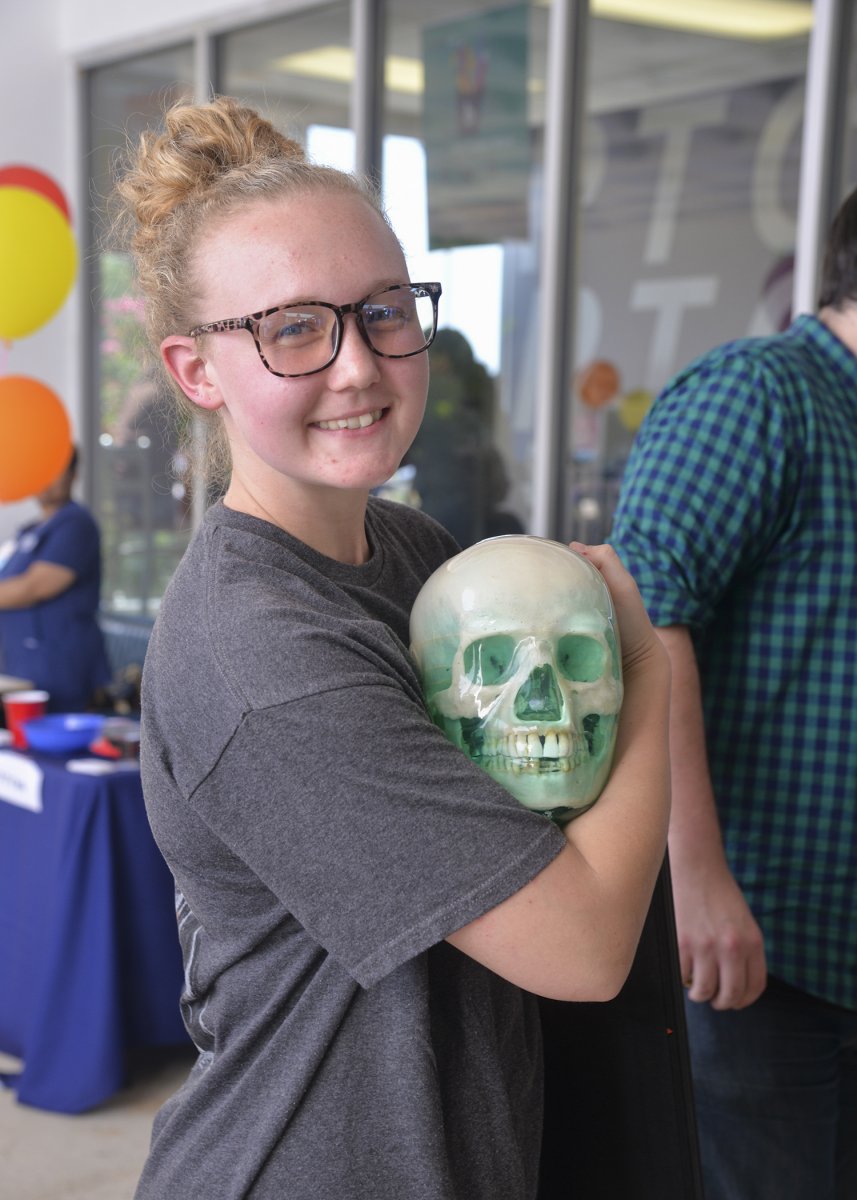 With the revised award amounts, more present and future PTC students potentially can attend college full-time this spring ― tuition-free. The increase in SC WINS funding affects 48 of the credentials offered at PTC. This fall semester was the first in which SC WINS scholarships were available, and more than 900 PTC students are among the college's first class of recipients.
"Any in-region current or future student who is in good standing and eligible for the scholarships most likely won't pay anything this spring," said Missy Perry, PTC's director of financial aid. "It's an unprecedented opportunity for those seeking higher education."
Beginning in the spring 2020 semester, SC WINS recipients will receive $100 per credit hour (increased from $50) after applying all other scholarships or grants. There is also a book allowance of up to $300 per year if a student is majoring in a critical workforce area during the semester. Student awards are limited to $2,500 in a single academic year.
In addition, SCTCS increased the Lottery Tuition Assistance (LTA) award to $110 per credit hour (increased from $100), with no maximum credit hour limitation, beginning in spring 2020. This is great news for PTC students as they continue working toward their various degrees and certifications.
Wash, who maintains a cumulative 3.51 grade point average, is expecting to graduate next summer. To help pay for her education, she has received LTA and SC WINS support on her journey to an associate degree.
"While I am in school, I continue to work. During my spring and summer semesters, I was working two part-time jobs and going to school full time," Wash said. "School by itself is a full time job, but I had to pick up as many hours as I could to pay my summer tuition, along with the everyday essentials. I found out about the SC WINS program through the college website, read the requirements and got in touch with my financial aid adviser to see if I qualified. And I did!"
Since then, Wash has been able to leave one of her jobs because SC WINS covered the rest of her tuition for the fall semester. "This meant I could focus more on my grades and not worry about how I was going to cover the remaining balance of my tuition. Thanks to SC WINS, I have more time to study and prepare for my career."
The South Carolina General Assembly earlier this year passed SC WINS to address specific workforce shortages. The scholarship supplements Lottery Tuition Assistance to help further reduce tuition costs for eligible students. The new program started awarding funds in the fall of 2019.
"This new opportunity will make getting an education more affordable for our students," said Dr. Ray Brooks, PTC president. "SC WINS doesn't just remove a financial barrier. It's designed to grow the workforce in key business sectors in the state. Eligible students will pay less for tuition and build a skill set that will make them highly employable."
Students are eligible to receive the SC WINS scholarship if they meet one of two criteria.
In one scenario, a student must be receiving Lottery Tuition Assistance (LTA) and majoring in a critical workforce area. These areas include health care, computer and information technology, advanced manufacturing and construction.
In the other scenario, a student must be receiving LTA and meet the USDA income eligibility guidelines for free and reduced price meals.
For additional SC WINS eligibility information, visit www.ptc.edu/win.
PHOTO:  SC WINS scholarship recipient Kylie Wash at a campus event.