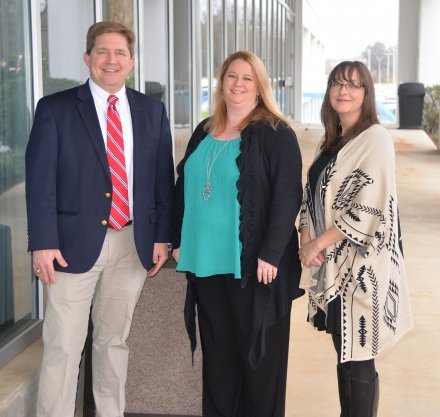 SCTEA Honors PTC Outstanding Educators
March 19, 2019
Three Piedmont Technical College (PTC) associates were honored as Outstanding Educators for the 2018-2019 academic year at the annual South Carolina Technical Education Association (SCTEA) convention, held Feb. 14-16, 2019, in Myrtle Beach.
The PTC honorees, who were recognized along with colleagues from sister technical colleges, are:  Karla Gilliam, director of the CARE Planning Center, which provides advising to students interested in health care careers; (faculty); Dr. Brad Griggs, dean of arts and sciences (administrator); and Bonnie Alger, learning management system technician (staff).  
While working on her associate degree in respiratory care at PTC in 2002, Gilliam began her career in the clinical realm at Newberry County Memorial Hospital, where she treated patients with respiratory disorders for eight years. Since 2009, she has taught in a variety of modalities at PTC, including respiratory care and cardiopulmonary anatomy and physiology.
Gilliam earned a bachelor's in business administration with a concentration in health care management (2010) and a master's in education (2014), both from American InterContinental University. In October 2017, she became the PTC Quality Enhancement Plan Director overseeing, in collaboration with the college's director of advising, day-to-day activities of the CARE Planning Center, a customized advising service for nursing and health care majors.
She has served on the board of the SCTEA since 2014, as a member of the Southern Association of Colleges and Schools Commission on Colleges (SACSCOC) steering committee for PTC since 2016 and currently chairs the PTC Curriculum Committee. She also received the SCTEA Educator of the Year for 2011-2012. And in 2017, she was named a South Carolina Society for Respiratory Care Education Practitioner of the Year.
Dr. Griggs has been with PTC for more than 10 years, serving as an instructor of biology courses since 2008 and as dean of arts and sciences since 2014. In 2018, he also served as interim dean of business, information technologies and public service. Before coming to PTC, Griggs was a staff scientist at Greenwood Genetic Center. He earned both his bachelor's degree in biological sciences and his PhD in genetics from Clemson University.
A member of SCTEA and the Association for Biology Laboratory Education, Griggs also serves on the Biomedical Curriculum Advisory Board at the G. Frank Russell Technology Center. He has twice previously been named Administrator of the Year at PTC (2016 and 2018).
PTC alumna Bonnie Alger has an associate degree in computer technology and hopes to complete her bachelor's in computer science from Western Governors University (WGU) this spring. She works with both faculty and students in instructional development and online learning.
PHOTO CAPTION
Pictured, from left, are: Brad Griggs, Karla Gilliam and Bonnie Alger