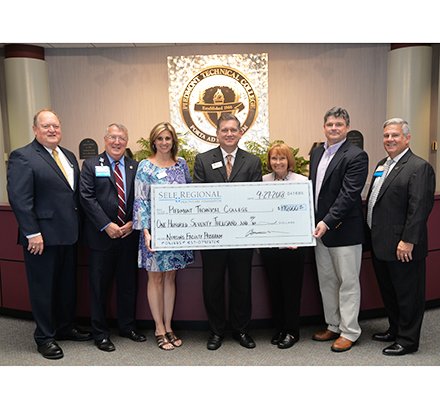 Self Regional Healthcare Foundation Donates $170K to PTC Nursing Program
September 27, 2018
Self Regional Healthcare in Greenwood has provided an infusion of capital to the Nursing Department at Piedmont Technical College (PTC) to further strengthen the region's nursing workforce. At a ceremony on September 27, Ken Coffey, executive director of the Self Regional Healthcare Foundation, presented a check for $170,000 to PTC President Dr. Ray Brooks and Health Care Dean Tara Harris. The funds will be used to help support the nursing curriculum at PTC and to address the immediate need for additional faculty to serve students majoring in the college's nursing programs.
"Self Regional is firmly committed to addressing the growing shortage of nurses and to working with partners like Piedmont Technical College to educate local talent and ensure that our community's healthcare needs are met well into the future," Coffey said.
The Bureau of Labor Statistics (BLS) projects there will be an estimated 1.2 million registered nurse vacancies nationwide by 2022. In South Carolina, the BLS forecasts a 24 percent nursing staff shortage within the next five years. Reasons for anticipated shortages vary from a retirement-driven exodus of experienced nurses to a lack of higher education faculty to train prospective nurses.
"It is a privilege to serve as a strategic partner of Self Regional Healthcare," Dr. Brooks said. "Providing consistent nurse workforce support is extremely important in the delivery of the highest-quality health care in Greenwood and surrounding areas. This donation will go a long way toward bringing more prospective students into the nursing profession."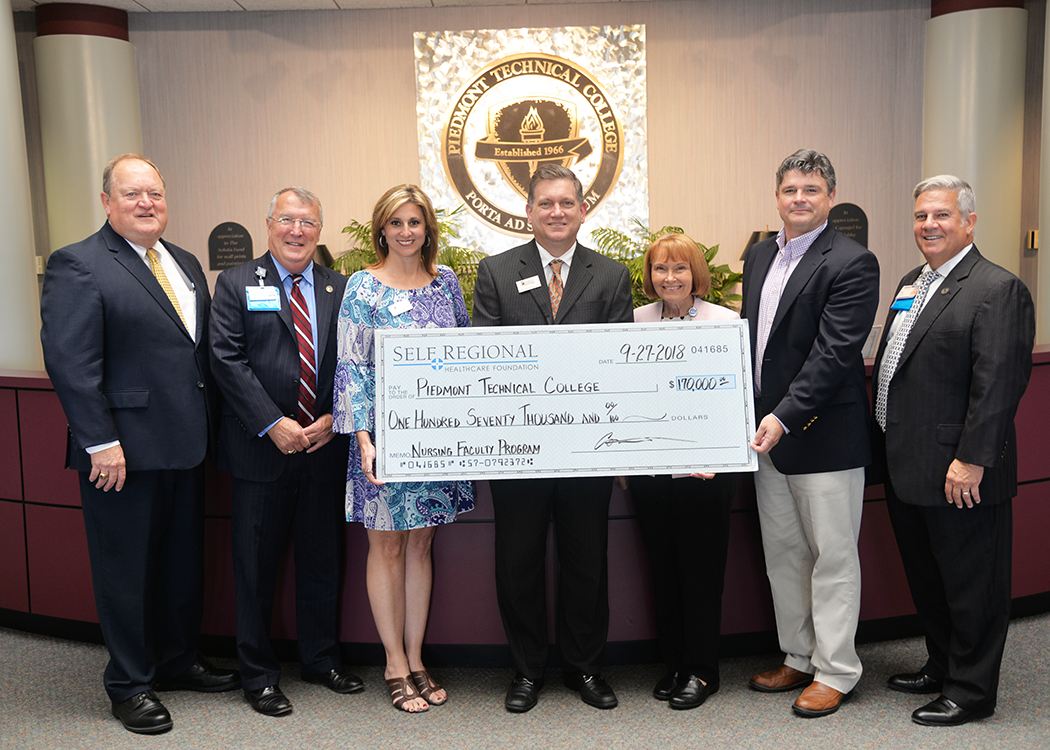 PHOTO CUTLINE:
Pictured from left to right:  Dr. Ray Brooks, President of Piedmont Technical College (PTC); Jim Pfeiffer, President and CEO of Self Regional Healthcare (SRH); Tara Harris, PTC Dean of Health Care; Dr. Jack Bagwell, PTC Vice President of Academic Affairs; Linda Russell, SRH Vice President and Chief Nursing Officer; Courtney Furman, Chairman of the of the SRH Foundation; and Ken Coffey, Executive Director of the SRH Foundation.