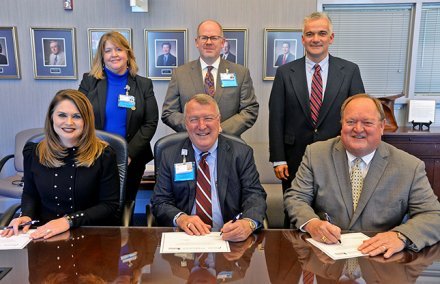 Self Regional Healthcare Partners with Piedmont Tech on New Apprenticeship
November 29, 2017
Self Regional Healthcare has partnered with Piedmont Technical College and Apprenticeship Carolina to create and register a new apprenticeship program with the US Department of Labor—a first for Self Regional and for health care in the Lakelands region.
Utilizing funds from the South Carolina Apprenticeship Initiative (SCAI) Grant, Self Regional is sending the apprentices through the certified nursing assistant program at Piedmont Technical College.
President and CEO of Self Regional Healthcare, Jim Pfeiffer, said, "It's very important for us to work closely with area educators to address the growing need for more health care workers. We appreciate the opportunity for creative discussion and cooperation on important issues with key local partners such as Greenwood Promise, Lander University, Piedmont Technical College and others."
By registering the program, Self Regional Healthcare can ensure that their nursing assistants have both the education and the on-the-job experience necessary to perform their job effectively. Additionally, the apprentices will receive a nationally-recognized credential when they successfully complete the program.
This new apprenticeship program builds on a long history of collaboration between Self Regional and PTC. The partnership was strengthened this summer when leaders from the college and Self Regional met to discuss the growing need for skilled health care workers in the Lakelands, and to brainstorm innovative new initiatives to prepare students for those careers.
The apprenticeship and the CAREplan, a new approach to advising health care students at PTC that will launch in Fall 2018, are the direct result of this ongoing conversation between the two organizations.
 "Piedmont Technical College has had a great working relationship with Self Regional for many years," said Dr. Ray Brooks, president of Piedmont Technical College. "We're excited about this opportunity to expand our partnership, and we look forward to continuing this work to provide innovative paths into health care careers."
In partnership with Apprenticeship Carolina, PTC works with more than 38 companies on apprenticeships across 49+ apprenticeships. Some of the most recent programs include: mechatronics with ZF Transmissions and Prysmian Group; CNC with Alupress; and supervisory training with SPF North America and Velux America.
An apprenticeship is a time-tested method of employee development that combines supervised on-the-job learning and job-related education.
"Apprenticeships allow employers an opportunity to establish a 'grow your own' means of sustaining a workforce," said Carla Whitlock, senior apprenticeship consultant in the S.C. Technical College System's Division of Economic Development and Workforce Competitiveness.
Photo Caption: Self Regional Healthcare, Piedmont Technical College and Apprenticeship Carolina officials recently signed an apprenticeship agreement. Pictured are, front from left, Carla Whitlock, senior apprenticeship consultant; Jim Pfeiffer, president and CEO of Self Regional Healthcare; and Dr. Ray Brooks, president of Piedmont Technical College. Back, Sherri Gordon, director of organizational development with Self; Mike Dixon, vice president of human resources with Self; and Rusty Denning, associate vice president of workforce development with Piedmont Tech.