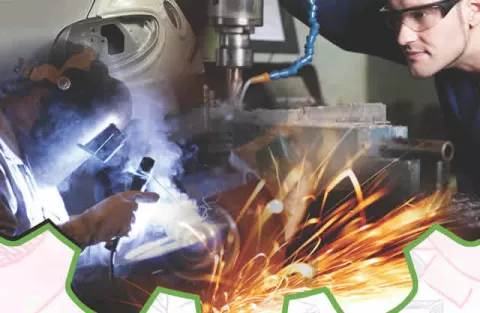 South Carolina Manufacturing Certification: Essential Skills for Advanced Manufacturing Jobs
South Carolina Manufacturing Certification (SCMC) training provides the student with 200 hours of classroom, hands-on and simulation training that leads to an industry-recognized national credential. With scholarship money available for selected applicants, this program is an excellent opportunity for any manufacturing employee or unemployed person seeking to enhance their skill set.
What are the Components of SCMC Training?
SCMC is made up of four basic training components: Manufacturing Skills Standards Council (MSSC) Certified Production Technician, Lean Six Sigma Yellow Belt, OSHA General Industry, and hands-on lab training.
MSSC Certified Production Technician
MSSC is an industry-led training, assessment and certification organization that focuses on the core technical competencies needed by the nation's front-line production and material handling workers. The MSSC Certified Production Technician credential focuses on growing the participant's technical skills. Upon successful completion of four MSSC production modules: Safety, Quality Practices & Measurement, Manufacturing Processes & Production, and Maintenance Awareness, participants are awarded a national credential. MSSC allows participants to demonstrate that they have mastered the skills increasingly needed in the high-growth, technology-intensive jobs of today.
Lean Six Sigma Yellow Belt
Lean Six Sigma Yellow Belt training provides intense training in the basics of Lean Six Sigma Methodology. This certification prepares the student to support improvement projects as part of a team, or conduct small projects on a part time basis.  A holistic approach to problem solving, Six Sigma is a step-by-step process that allows companies to understand which business processes are not performing as needed, identify the root cause of problems, analyze and improve the contributing factors, and sustain those improvements. Because Six Sigma can improve processes and reduce costs, companies large and small can benefit from these tools.
OSHA General Industry
OSHA General Industry Outreach training is a comprehensive safety program designed to provide complete information regarding OSHA compliance issues for those working in industry. This training covers various health and safety topics as they apply in the manufacturing environment. These topics include, but are not limited to: walking and working surfaces, exit routes, fire protection, fire extinguishers, electrical, hazard communication, protective equipment, confined spaces, blood borne pathogens, materials handling, accident investigation, HAZWOPER, industrial hygiene, and ergonomics.
Hands-on Lab Training
The 200 hours of SCMC training will include hands-on learning utilizing top notch training and simulation equipment. Students will be given the opportunity to apply skills that they have learned in the classroom to real-world situations and projects, leaving them prepared to apply these skills immediately in the workplace. Hands on lab training will include quality assurance, process and production, maintenance, and lean.
How can SCMC Benefit Employers?
Aside from earning an industry-recognized credential, SCMC also assists students in mastering the soft skills and technical skills that are essential to be successful in today's high-tech manufacturing careers. Some of these include:
Understanding what it takes to work effectively in a manufacturing environment

Fully comprehending the importance of continuous improvement in the manufacturing process

Grasping the essential skills needed to gather, interpret, and use data consistently and accurately to make decisions and take action

Improving fundamental communication skills (writing, reading, speaking, listening) to meet the needs of the workplace

Increasing safety awareness and honing the ability to recognize and address safety hazards in the workplace

Sharpening basic math abilities

Learning to measure properly using a wide variety of measuring instruments

Enhancing use of hand and power tools

Learning to read blueprints effectively without error and within tolerances
SCMC also includes soft skills training that focuses on the personal characteristics and basic employability skills of the participants. "We've taken things that we know are important to the employer like timeliness, dependability, work ethic, self-motivation and teamwork into consideration while designing a soft skills program that will be very valuable," said Mike Reid, Dean of Operations for Continuing Education at Piedmont Tech.
SCMC will help provide a pipeline of workers by embedding MSSC training into the curriculum. Employers can expect decreased recruitment costs as SCMC graduates will come with an industry-recognized credential. Remedial training costs are eliminated when companies are provided well-trained workers.