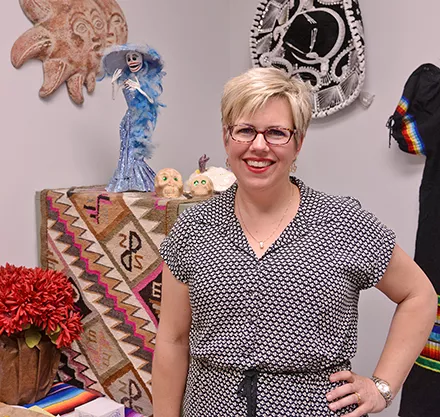 Spanish Instructor Shares Her Love of Culture with Students
Jennifer Lopes has had a love of Hispanic culture since she was a child. Now she is bringing that love to the classroom at Piedmont Technical College.
"My mother took us to the children's museum to see an exhibit on Latin America," Lopes said. "I fell in love with the culture and the language. From that point on, I decided I wanted to speak Spanish."
Lopes pursued her passion, earning a bachelor's degree and a master's degree from the University of North Carolina. She spent time studying abroad in both Mexico and Argentina. While attending UNC, she met her husband and that opened up another passion - Portuguese.
"My husband is from Portugal," Lopes said. "He came to the United States to do his doctorate at UNC."
Being immersed in the culture as well as the language at home and taking trips to many countries ranging from Spain and Portugal to Cuba and Costa Rica, Lopes says she works daily to emphasize the importance of the culture and not just the language to her PTC students.
"We focus on the language because you have to learn the grammar," she said. "But something else that's very valuable about taking a foreign language, any foreign language, is the need to understand that people come from different backgrounds and different cultures."
Lopes says she likes to focus on helping her students understand the differences and how that will be a part of their futures.
"Since the world is such a global world market, the chances that our students will be working alongside someone who comes from a different background from them is highly likely," she said. "They need to be understanding about those differences."
Lopes hopes to continue engaging her students in the culture of Spanish-speaking countries. Currently, she is preparing a proposal for a joint venture with Lander University to take students abroad.
"I want my students to realize that the world is so different outside of Greenwood, outside of South Carolina, outside of the United States," Lopes said. "Experiences like that can change their perceptions forever."
For more information on enrolling at Piedmont Tech, call (864) 941-8369 or visit www.ptc.edu.