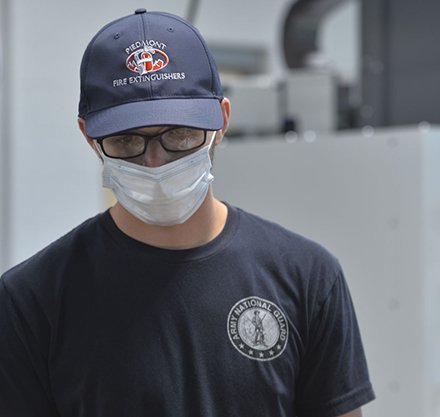 Students Get First Experience of O'Dell Center
September 10, 2020
Several fall-semester industrial technology students at Piedmont Technical College (PTC) got a whiff of that unmistakable "new-building smell" at the William H. "Billy" O'Dell Upstate Center for Manufacturing Excellence in Greenwood the first week of classes last month. The building is nearly complete (some large-scale equipment is still being installed and a few punch-list items), but its shiny new facilities are open already for welding and machine tool classes.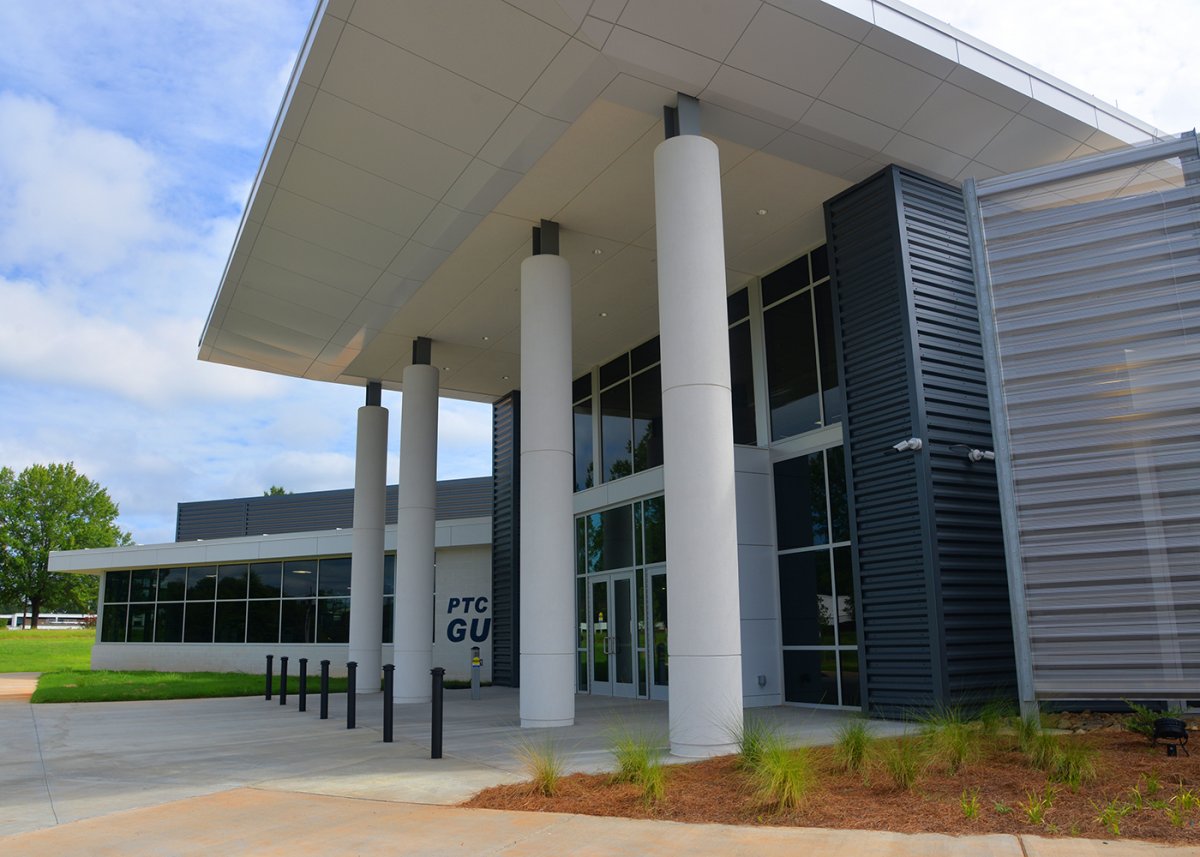 "It's very organized and very clean," said 20-year-old Machine Tool Technology Program student Dylan Davenport of Donalds in Abbeville County. "I feel like a lot of students can focus better and not get distracted by other classes that are going on."
Davenport enrolled in the Machine Tool Technology Program after seeing Program Director and Instructor Phillip Calhoun at a career day event at Ware Shoals High School. The two hit it off and ran into each other again as Davenport, a military veteran, was considering his options.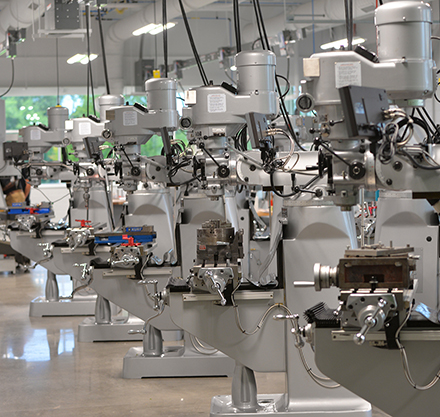 Calhoun and fellow instructor Don Lytch have been putting in long hours to make sure everything was ready for students in the new facility. And they've been resourceful about supplies.
"We are making our own tools already using this equipment!" he exclaimed. "It's saving us a bunch of money." Case in point, the 1/2-13 T-slot bolts and nuts used in the program can cost as much as $20 each. By purchasing raw materials (an 8-foot round stock for the same price), Calhoun's team can produce up to 40 of the same screws, labor free, for the same $20.
The 45,000-square-foot O'Dell Center houses a 45-booth welding workshop, a robotics lab, classrooms, and fully outfitted mechatronics and machine tool labs. The new facility also includes generous flexible space to serve emerging workforce development needs in partnership with area businesses.
Rusty Denning, PTC associate vice president for Economic Development and Continuing Education and interim dean for Engineering and Industrial Technology, lauded the Center's versatility designed for easy reconfiguration of workspaces as needed. The large floor space also readily supports social distancing.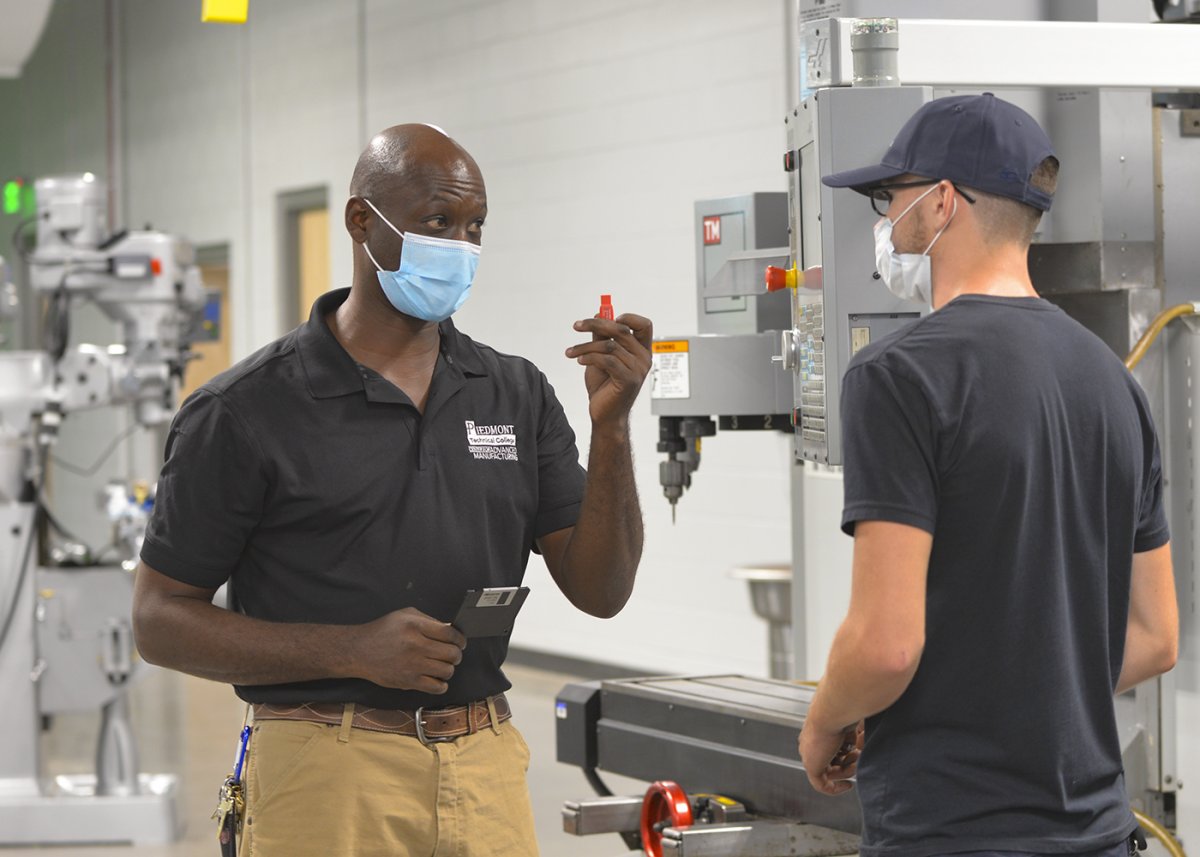 "This facility is a marvel of industrial design with the latest, state-of-the-art equipment and minimalist layout featuring wide corridors and windows into classrooms for non-intrusive outside observation," Denning said. "It very accurately simulates the environment in today's most progressive, advanced manufacturing plants."
Davenport is very comfortable in the new setting.
"The main thing I like about this program is that it's very hands-on. I am a hands-on learner. I like being in the shop," he said. "And I really like that I can see an end product when I'm finished."
For more information about PTC's engineering and industrial technology programs, visit www.ptc.edu.
###
PHOTOS:
PTC Machine Tool Technology student Dylan Davenport
Exterior of the O'Dell Center for Manufacturing Excellence
Inside the O'Dell Center's Machine Tool Lab
PTC Instructor Phillip Calhoun shows Dylan Davenport different memory storage systems among older and newer machines.