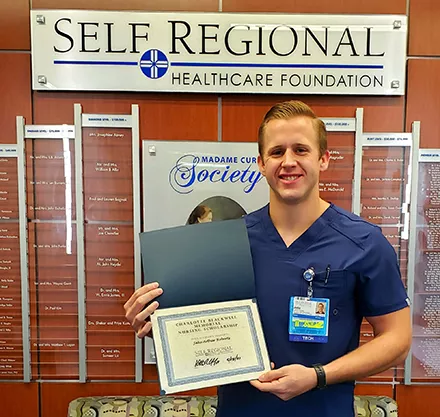 Two PTC Nursing Students Receive Self Foundation Scholarships
That the Piedmont Technical College (PTC) Nursing Program serves as a workforce pipeline for longtime business partner Self Regional Healthcare is no secret. Less known, perhaps, is how the Self Regional Healthcare Foundation is supporting PTC nursing students in their educational experience. Two PTC nursing students each recently were named recipients of $1,000 scholarships from the Self Foundation.

Jake Roberts, 26, received the Charlotte Blackwell Memorial Nursing Scholarship, and Tarshika Bastain, 31, received the Mary Ella Ruff Nursing Scholarship. Both are from Greenwood.

In her letter recommending Roberts for his scholarship, PTC Nursing Instructor Elizabeth Wilson, MSN, RN, cited the young man's conscientious nature and strong work ethic. 

"In clinical, he is the student who always seeks out opportunities for learning in order to gain more experience," Wilson wrote. "He is not afraid to ask questions and wants to learn. He even goes home and researches topics to understand things he saw, heard, or read in clinical. By doing this, Jake's nursing knowledge and skills have grown throughout the semester."

While in nursing school, Roberts is working as a patient care technician at Self. He said the nursing faculty at PTC has had a very positive impact on his journey.

"Much of the past year was taught during COVID, and we were all online for the introductory nursing courses," Roberts said. "One teacher, Ms. Skawski (who is retired now), hauled all kinds of equipment into her attic to demonstrate online. She brought so much energy to our online lectures. We received a depth of knowledge beyond the basics. … It was a big difference-maker for me. I am very appreciative."

Roberts has enjoyed working at Self and often sees Wilson when he is at work, because she works there, too.

"She not only teaches but does what she teaches on the job," he said. "So many people at Self went through the same PTC program. It's cool to have that type of family."

In a note to PTC nursing instructors, Roberts expressed his appreciation for their support.

"I want to thank y'all for everything you've done for my education!"  he wrote. "You've been amazing, and I am beyond thankful and grateful for the impact that you have made on my life."

For more information about PTC's Nursing Program, please visit www.ptc.edu/nursing. 
###

*Tarshika Bastian was not available to comment for this story. 
PHOTO: Jake Roberts on the job at Self.