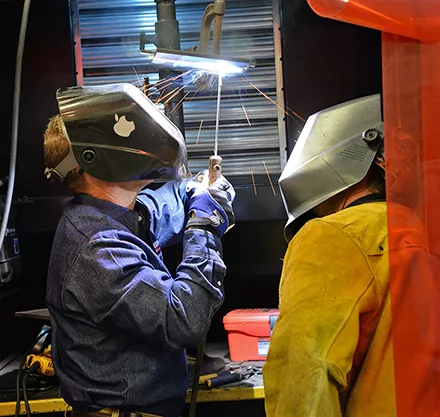 Welding Program Introduces New Approach at CAM in Laurens County
Piedmont Technical College's welding program at the Center for Advanced Manufacturing (CAM) in Laurens County is launching a new approach to preparing students to enter the workforce.
Tony Amos, welding instructor at the CAM, is piloting a program in conjunction with the National Center for Construction Education and Research (NCCER). The NCCER curriculum provides students with additional resources and preparation techniques.
"We graduate outstanding welders, all of our welders are qualified," said Amos. "The knowledge-base on metallurgy and processes does have room for improvement."
The current curriculum focuses heavily on lab time and hands-on training. The NCCER curriculum will add an additional component for students with online instruction and testing. Instructors receive those test results and can focus their in-class instruction on the areas where students struggled.
"When the students come into my classroom, I can hit the highlights of what was not absorbed through the interaction online," Amos said. "I don't have to reteach what they already know."
Industries in the area will be able to utilize the connection between Piedmont Tech and NCCER. Companies can access student records online to verify credentials and help them find the ideal employees to fit their needs. This idea of tailoring the education for industry is the foundation for NCCER.
"NCCER builds their curriculum by bringing in the experts in the industry and to find out what the industry needs," said Amos. "Then they establish the curriculum to meet those needs."
Amos said students who choose to enroll in the welding program in Laurens will have a faster pace and a heavier load, but the payoff will be worth the effort.
"Students who complete this curriculum will be more marketable and in higher demand because of the credentials they can gain," he said. "The program we're moving to will exactly meet the target for what the industry needs."
For more information on the welding program at the CAM, contact Amos at (864) 682-3702 or go to www.ptc.edu/welding. 
Photo Caption: Welding instructor Tony Amos, left, demonstrates a welding technique during class at the Center for Advanced Manufacturing in Laurens.