Alum Now Supervises Interns from his Alma Mater at WCTEL
Don't ask Richie Stone to limit his screen time. That's something he just cannot do. It's kind of an occupational hazard.
In his role as Network Services Technician and Group Leader at West Carolina Tel (WCTEL) in Abbeville, Stone oversees activities of the company's Network Operations Center (NOC), which employs a number of interns from Piedmont Technical College (PTC). The NOC is monitored 24/7 for any internet or TV channel issues.
"The NOC allows WCTEL/WCFIBER to be proactive and gives us the opportunity to resolve network issues before the customer even sees an issue," he said.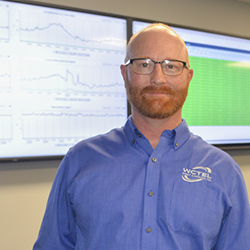 Stone graduated from PTC in 1993. His major was the now-defunct industrial technology/industrial electronics, elements of which today are offered through the college's Electronic Engineering Technology and Mechatronics programs. "My dad was in the telephone industry, and I knew that is where I wanted to be," Stone explained. "Industrial electronics was the closest thing I could find to that field of study."
After graduating from PTC, Stone went to work at Milliken in Abbeville for nine years. He made the move to WCTEL in 2000. "I enjoy working with cutting-edge technology," he said. "Working at WCTEL is great. One of the biggest things I like is the family atmosphere that we have. As a service-oriented culture, it's the real deal."
Despite having attended PTC so many years ago, Stone still remembers individual instructors who made a difference for him. While attending classes, he notably struggled with math, especially trigonometry. He ended up dropping one important advanced math class that he needed to graduate. He decided to have a break and to retake it later. He ultimately succeeded in the class on his second try with extra coaching from a caring faculty member.
"During my last semester, I did so well that I became a tutor," he said. "It's all because of my teacher, Nancy Bell."
For the Stones, attending Piedmont Tech has become a family affair. Stone and his wife, Alison, have four high-achieving children ― all of whom have attended PTC or are currently enrolled. Blake, 30, attended PTC and transferred to Lander University for his bachelor's, later earning a master's from Clemson University. He currently works as the city manager for Abbeville. Tanner, 25, also transferred from PTC to Lander to earn his bachelor's degree and is now working in IT at Lander. Whitney, 25, attended PTC and graduated from Lander with a BS in nursing. She now works at Self Regional Healthcare. The youngest, 18-year-old Nic, will begin at PTC this fall, majoring in electronic engineering.
Stone has enjoyed mentoring the students in his charge.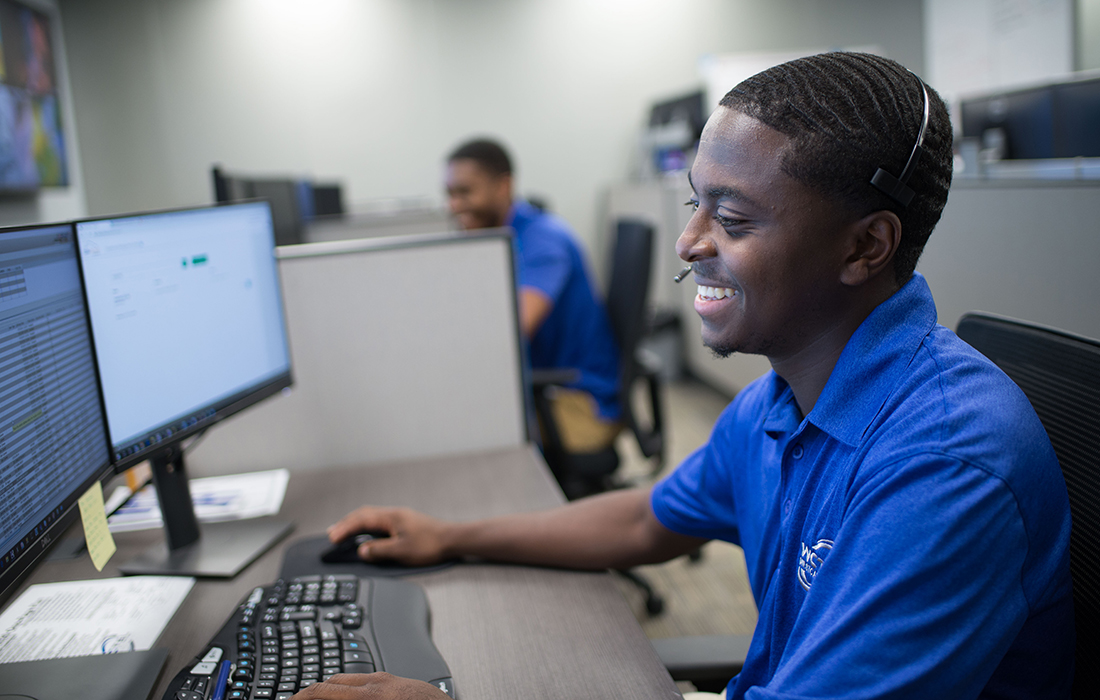 "I really enjoy it," he said. "I love being able to give these guys and girls the opportunity to come in here and learn what they are learning. And they share their experience with us as well. They do front-line tech support. They pick up on it pretty quick. I am proud of them."
During WCTEL's relationship with PTC, Stone says the quality of interns coming from the college has been consistently high, and they have hired several afterward.
"Our Tier 1 NOC relies on interns from PTC," he said. "These technicians come in with training from PTC, and we take those skills and build upon them."
When describing qualities WCTEL seeks in interns, Stone says the best candidates have a natural interest in technologies and desire to learn. In a continuously changing industry, interns also must be flexible and willing to change or adapt.
Stone loves working at WCTEL and is willing to bet that interns do as well.
"There's nothing like coming to work," he said, "with a smile on your face and looking forward to the day."
Who Should We Tag Next?
There are many stories like the one shared about WCTEL and Noel above. While we hear about a lot of them, we are always looking for more ways to tell student and partner stories. Who should we tag next?