Earning While They Learn
The promise of a good job in a rapidly changing economy is nearly as important as the enviable compensation that comes with the careers pursued by Piedmont Technical College students. In many cases, students find a strong pathway to their career through the many apprenticeship opportunities available through the college. Specifically, this option allows students to learn on the job and in the classroom while also receiving a paycheck—a collaboration that works as well for the employer as it works for the student.
Apprenticeship programs across South Carolina are proliferating rapidly as local employers realize their potential and return on investment.
"The number of companies (and industries) that Apprenticeship Carolina™ works with continues to grow," said Amanda Richardson, apprenticeship consultant with Apprenticeship Carolina. "Most companies are using registered apprenticeship programs as a way to grow their own workforce and create a critical talent pipeline to meet their current and future needs. The company and apprentice both benefit from this proven 'earn while you learn' model."
In the seven-county area served by PTC, these opportunities have continued to expand as well.
"We have 34 active apprenticeship programs running," said Rusty Denning, PTC's associate vice president for economic development and continuing education. "Our industry customers appreciate Piedmont Tech serving as the liaison between them and the state funding agency to augment the cost of employer-sponsored apprenticeships. In a nutshell, it's high-quality training made affordable."
The apprenticeships are registered with the U.S. Department of Labor as part of federal funding awarded to the SC Technical College System specifically to expand apprenticeship in South Carolina. It is hoped that apprenticeships can address unmet needs for skilled workers in such fields as advanced manufacturing and construction.
"The industries participating in these apprenticeships benefit greatly because of the enormous return they receive from their discounted investment," Denning explained. "They come away with more skilled workers who, in turn, become even more loyal to the companies that invest in them."
Students can enter these programs at all points along their path to developing needed workforce skills. For instance, some apprenticeships start as early as high school, while others are hosted at local companies for existing employees. Here are just a few of the ways in which PTC is driving student and business success through apprenticeships.
Professional Development at Velux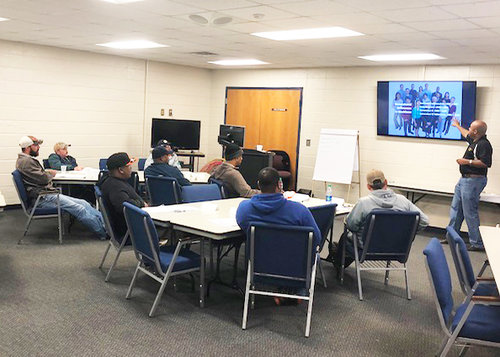 The apprenticeship program that quietly launched in 2016 at Velux in Greenwood has gradually attracted notice, and more employees say they want in.
"Our apprentices have all been current employees," said Brad Setzler, human resources generalist at Velux. "Piedmont Technical College (PTC) provided all the training and materials. PTC coordinated everything, including helping secure the funds through Apprenticeship Carolina."
The apprenticeship program in leadership at Velux is wrapping up its two-year run, and another two-year program has begun to provide SAP (Systems, Applications and Products) training. The SAP training is completely online, which is popular with employees because they can participate when it is convenient for them.
"The apprenticeship program helps provide developmental opportunities to our employees," Setzler said. "It's continuing education to further their skills on the job. We liked it because we could keep the education and training local, which was big for us."
Setzler said that feedback on the program has been overwhelmingly positive.
"They want more of it! Participants and their managers all spoke highly of the training they received. They want it every year now. It was really beneficial," he said. "We would not even have known about it without PTC reaching out to us and helping us through the process."
Going With the Flow at Menardi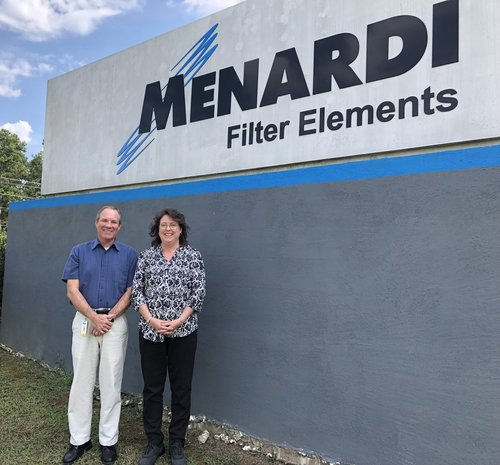 Navigating a sometimes turbulent marketplace requires vision, experience ― and the right balance to stabilize the ship. Management at Menardi Filter Elements in Edgefield County realized that sailing along the same way as always only brings the same results. All the while, their competitors were changing tack in the midst of an approaching sea change.
"We have been in business for a long time, and the market has changed for us," said Kirk Trykowski, vice president of finance and general manager at Menardi. "We continued to try to run our business the way it was in its heyday but realized the market has changed, so we had to change with it."
Trykowski and HR Manager Kerry Watson both knew that staying competitive required not just a training solution but an overall cultural shift. And that meant swimming against the longstanding current.
"When I started a year ago, my overall goal was to get people training," Trykowski explained. "Kerry and I both came from a largely pro-training environment." At the time, some Menardi employees hadn't received any training for several years. "Kerry and I are trying to bring that forward," he said.
The two saw apprenticeship, in partnership with Piedmont Technical College, as an opportunity to secure training and update employee skills at a significantly lower cost while, at the same time, instigating a progressive shift in mindset. To begin, they asked the company's supervisors and managers to identify promising candidates in various areas. "They put a list together along with suggestions for bringing in an instructor," Trykowski explained. "We just followed that list verbatim."
"By having someone else come in who is considered an expert, I think that carries a lot more weight than something we might offer internally.
For its part, PTC provides onsite instruction for Menardi employees.
Having the instructors come to Menardi rather than sending employees offsite is a huge advantage. "By having someone else come in who is considered an expert, I think that carries a lot more weight than something we might offer internally," Trykowski said.
Trykowski noted that the apprenticeship platform makes training more affordable as well as supports improved retention of employees.
"This is a plant that offers people opportunities that they might not necessarily have at a bigger company. We want to keep who we have here and educate them," he said. "We have already had people inquiring about upcoming training. We are getting people more engaged and making it part of our culture, to constantly be looking at process and flow."
On-the-job Training at ZF Transmission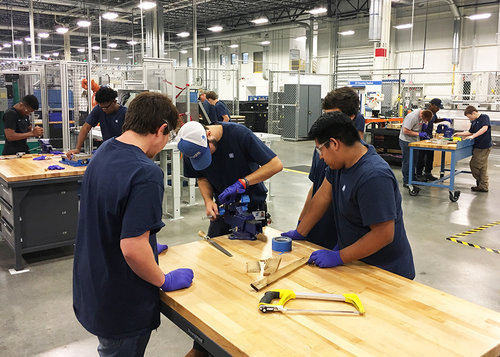 A proactive maintenance apprentice program among partners Piedmont Technical College (PTC), Laurens County Development Corporation (LCDC), Laurens County School Districts 55 and 56, and ZF Transmissions in Gray Court is making high-paying career opportunities available to qualified Laurens County high school students.
ZF's 1.5 million-square-foot advanced manufacturing facility produces 8- and 9-speed automatic transmissions for passenger cars. In a partnership with PTC and two public school districts in Laurens County, ZF launched the apprenticeship program modeled after successful ZF apprenticeships in Germany.
The three-year program is not for commitment-phobes. Apprentices are required to complete 4,000 hours of on-the-job training in addition to their coursework. High school students in the program take their technical classes at the PTC Center for Advanced Manufacturing (CAM) in Laurens, train part-time at the plant, and finish other coursework at their high school. After successfully completing the program, students receive an associate degree from Piedmont Tech and have an opportunity for full-time employment as a maintenance technician.
In addition to supervising ZF apprentices, Robbie Ellis visits high schools in Laurens County to recruit the next class of apprentices. "I encourage underclassmen to look into dual enrollment at PTC in machine tool technology or mechatronics to give them a leg up on the application process," he said.
ZF sets a high bar for accepting apprentices. "There is a narrow band of students that I am looking for," Ellis said. "They must have at least a 2.5 GPA, a 75 or above in Algebra I and a Silver or higher on the Work Keys Assessment. We look for kids who like to work with their hands and aren't afraid to get dirty when the job calls for it. And they should get along with others."
"It's still really early, but the program seems to be progressing very well," said Lynn Finley, assistant director of LCDC. "And they say the quality of the candidates continues to get stronger."
Cultivating Employees at Colgate-Palmolive
"The industries participating in these apprenticeships benefit greatly because of the enormous return they receive from their discounted investment. They come away with more skilled workers who, in turn, become even more loyal to the companies that invest in them.
To further standardize their employee training plan, strengthen worker skills and support retention, Colgate-Palmolive officials in Greenwood signed an agreement with Piedmont Technical College (PTC) and readySC™ to roll out a registered apprenticeship program for their maintenance employees. Sixty (60) Colgate employees signed up for the program, and interviews are now underway to determine the first 10-12 candidates to enter the program this fall.
The selected apprentices will complete PTC's Mechatronics I course. Mechatronics combines the terms "mechanical" and "electronics" as they apply to engineering and computer science fields. Employees trained in mechatronics can help develop and operate intelligent or "smart" electromechanical systems. In the manufacturing environment, examples include programmable robots and machine tools with auto-adapting functions.
Colgate is a leading global consumer products company. The company's Greenwood facility produces liquid hand soap, body wash, deodorants and antiperspirants including such brands as Softsoap, Irish Spring, Mennen Speed Stick, Lady Speed Stick and Sanex. As incentive to participate in the program, Colgate ― and other qualifying companies ― can receive a tax credit equivalent to $1,000 per year per apprentice to offset any costs associated with establishing the registered apprenticeship program.
The Bottom Line
The "earn while you learn" apprenticeship model is proving to be an effective, affordable tool for growing a skilled workforce.
For more information, visit the Apprenticeship Carolina website.